Artificial Intelligence Is Coming for Your Job
With over 20 years of expertise as a top-performing sales executive, DJ Sebastian served in strategic selling roles for such leading technology corporations as IBM, SAS Institute and QAD. Dedicated to improving the performance of sales teams and coaching the next-generation sales force, Sebastian is sending an advance warning about AI in his new book, The Selling Revolution.
Across the business world, major advances in technology including robotics, automation and artificial intelligence are expected to dramatically transform the makeup of the workforce in the near future. This trend will fundamentally change how human workers are utilized, including those in the sales profession, and whether they will even be needed to perform certain job functions at all, notes DJ Sebastian, author of the new book, The Selling Revolution: Prospering in the World of Artificial Intelligence (Samuelson Publishing).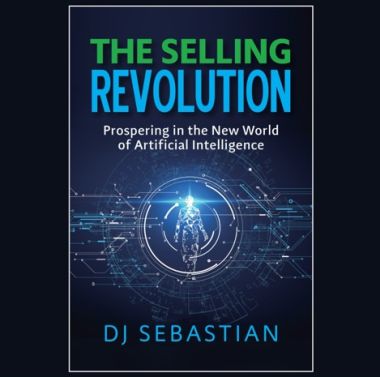 Sebastian warns that advanced technologies driven by artificial intelligence will significantly disrupt the sales profession. In addition to these emerging technologies, factors such as social communication trends, customer buying trends, and lower sales performance will converge to lead this selling revolution.
For two decades, Sebastian lived at the epicenter of helping customers select and implement innovative software solutions embedded with advanced analytics and artificial intelligence. This has given him a real understanding that sales professionals must build the skills exhibited by elite performers and reinvent themselves to remain relevant and prosper in this new world.
Praise for The Selling Revolution
"In an era where the application of artificial intelligence is on the rise, it is wise to invest your energy, money and time to learn new skills. In doing so, just like the many masters who shared their excellent insights detailed in this book, you too can expand your knowledge and become a master practitioner in the art of sales." -- Tony Jeton Selimi, International keynote speaker and bestselling author of A Path to Wisdom and #Loneliness
"DJ Sebastian understands what it takes to be a top producing sales professional and has deep experience in applying advanced technologies to the sales process. In The Selling Revolution, he delivers an innovative approach that will help sales professionals cultivate stronger customer relationships, win more business, and prosper through the turbulent transitions ahead." -- Jerry King, Business leader and president, ABBA Enterprises Unlimited LLC
"The Selling Revolution describes the journey to achieving elite sales performance. I experienced this first-hand with Mr. Sebastian. Whether you are a novice or an experienced business-to-business seller, adopting the proven sales strategies in this book will help you achieve even greater success." -- David Miller, Elite sales team leader with IBM, SAS Institute, and QAD.
Want more information? Click below.