Lower Cost per Part for Metal 3D Printing
Renishaw, a leading manufacturer of advanced metal additive manufacturing (AM) systems has joined forces with Altair, a leading provider of enterprise-class engineering software, for a series of projects aimed at bringing AM into serial end use production.
"Altair is a world leader in simulation-driven design," said Stephen Anderson, AM Business Development Manager of Renishaw Inc. "Research combining their software with our latest systems will give them practical insights that will lead to innovative improvements in their products."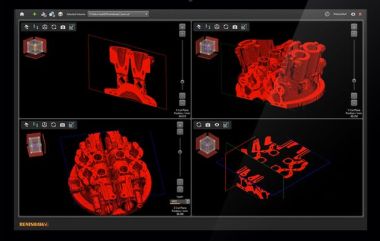 According to David Coates, Senior Program Manager at Altair, "Working closely with Renishaw benefits the development and application of our software to optimize designs for functionality as well as for printability, accuracy and suitability for its designated purpose. This collaboration helps ensure AM part development, print cycles and scrap rates are minimized for our customers."
Altair's simulation-driven innovative approach enables users to generate the highest quality, reliable designs with confidence that will print "right the first time."
Meanwhile, Altair has been able to rely on using Renishaw's range of metal 3D printing systems to successfully manufacture products from customers' concepts.
Now the two teams are offering joint seminars, workshops and training events to customers that practically demonstrate metal AM production from powder to part, with emphasis placed on throughput and machine productivity.
In addition, customers can engage in AM design projects with Altair to develop designs ideally suited for function and printability on the Renishaw series of printers. Similarly, customers wishing to use Renishaw Solutions Centers to design and test out the manufacturing of metal AM parts, can rely on Altair software and expertise to help get the job done.
"Together with Altair, we are collaborating on customer-focused productivity projects, particularly in the automotive sector, which will lead to significant improvement in part volumes and lower costs per part," Anderson stated.
Want more information? Click below.