First "Punch Tap" for Helical Thread Forming in Cast and Wrought Aluminum Alloys
Emuge Corporation's new Punch Taps provide a new, shortened tool path process for producing internal threads in under half a second, resulting in significantly less energy consumption during the machining process and a reduction in threading time by 75 percent compared to cold forming and conventional tapping.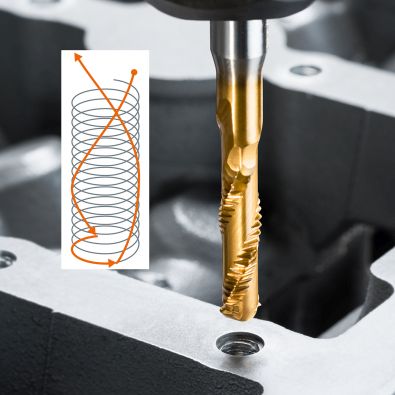 "Emuge originally partnered with Audi AG in Europe to develop the unique Punch Tap design and technology," said Mr. Bob Hellinger, President of Emuge Corp. "This revolutionary tool is exceptionally productive and we are thrilled to now offer the technology to our customers in North America." Due to its extremely fast threading capabilities, high volume applications such as in the automotive industry are ideal for the Punch Tap. Emuge Punch Taps provide an excellent thread production solution for manufacturers who produce high volume parts and need to reduce cycle times.
Punch Taps are made from a special HSSE-PM alloy optimized for toughness and long wear, and have an exclusive design offering several benefits such as unique teeth geometry that produces threads in a single step. The Punch Tap features two rows of flutes off-set 180° from each other and extending in a helical curve all the way down to the usable application depth. This design enables an extremely efficient tool path that is approximately 15 times shorter for a M6 thread with a depth of 15mm compared to traditional cutting or cold-forming taps. The shortened tool path facilitates a threading process which is completed in less than half a second.
Prior to the threading operation, the tool quickly punches into a pre-drilled hole and the first tooth of each flute produces a helical groove which assists in guiding the tap to the application depth. Once the depth is reached, threading commences by cold forming with a synchronous movement of feed and rotation. The thread is produced with a half left-turn in the pitch, and each tooth of the Emuge Punch Tap produces half a thread (approximately 180°). After the threads have been formed, the Punch Tap is retracted in a helical movement from the hole via the grooves. The finished cold-formed thread is interrupted by two helical grooves offset by 180°.
Thread strength is maintained and is comparable to conventionally machined threads from a depth of thread of 2xD. The Emuge Punch Taps, engineered and optimized for coatings and dimensions according to application requirements, are available by special order. Punch Taps are used for blind and through-holes, and can be used for the production of metric threads from M3 thru M10 with thread depths up to 2xD (inch sizes are also available from #8 thru 5/16). Emuge Punch Taps have internal coolant supply capability using emulsion or minimum quantity lubrication (MQL). The taps are used on CNC machines programmed with a specialized punch tap cycle, available from machine tool and control unit manufacturers. Machine parameters, such as acceleration, will require adjustment for some applications.
Want more information? Click below.
Copyright © 2019 by Nelson Publishing, Inc. All rights reserved. Reproduction Prohibited.
View our terms of use and
privacy policy
::m::