Updated Laser Tracker Series Features Handheld Probe to Extend CM Capabilities
API has announced the launch of its updated series of RADIAN Laser Trackers offering the lightest, most compact and highest accuracy trackers available. The extended RADIAN laser tracker range comprises three models: Radian Pro, Radian Plus and Radian Core.
The Radian Pro offers both absolute Distance Measurement (ADM) and inferometer (IFM) capability. It is available with 20, 50 and 80-meter range options and offers 6 degrees of freedom (6DoF).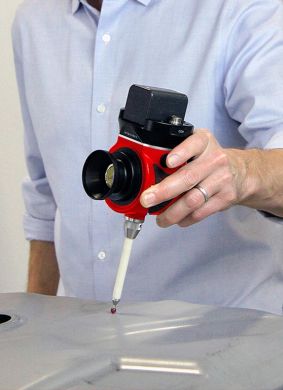 The Radian Plus is supplied standard with the API vProbe™ or iScan™. The vProbe is a hand-held light-weight tactile probe that extends the laser tracker coordinate measuring capabilities, by permitting intricate features and part characteristics outside the line-of-sight tracker set-up. The vProbe has more versatility than a portable arm CMM and is inherently suitable for large parts and styli lengths up to 500mm. API iScan is a hand-held, light-weight, non-contact scanner with new higher data-rate, point cloud capture speed, and a new global position sensor system.
The Radian Core is a spherically-mounted retroflector (SMR) tracker only, with a measuring ranges of 50 and 80 meters.
All of API's laser trackers feature the compact and rigid UNIBODY tracker design that uses shaft-mounted motors, encoders and laser. The innovative UNIBODY shaft-mounted laser minimizes ABBE offset errors. The UNIBODY houses the laser source, optics, camera and major head electronics in the center of the tracker body, centering all heat sources allowing rapid distribution of heat throughout the body during warm-up or drastic ambient temperature variations. The UNIBODY design maintains equilibrium through its operation due to a unique "Air-Over-Cooling" system, resulting in shorter warm-up and superior measurement stability.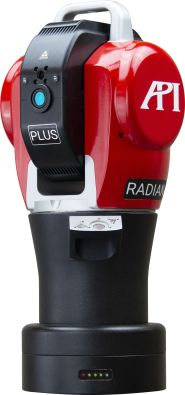 Standard iVision™ autolock functionality allows rapid recapture of a lost laser beam and provides effortless usability for difficult-to-access and interrupted line of sight measurements. Uniquely, all RADIAN trackers house an integral battery offering 4 hours of battery operation with automatic recharge when the tracker is connected to the main power supply. An external power pack can add an additional 4 hours of remote operation and can be used for tablet and smart phone charging, in the event of device battery failure.
Integrated with the Radian Pro and Plus models is the innovative API iScan™ wireless hand-held blue laser line scanner that offers a fast, accurate and more productive solution to generate component point clouds. Digitizing rates of up to 200,000 points/second are possible with the device that is capable of scanning both reflective and dark surfaces.
Radian Pro trackers can be provided with calibration tools to perform dynamic calibration and dynamic tracking of industrial robots and machine tools delivering enhanced performance of manufacturing processes by reducing process variation.
Want more information? Click below.