Flexible Gear-Cutting Machine Provides Complete Solution for the Auto Industry
More than ever, planners in the automotive industry are faced with the crucial challenge providing flexibility in production technology. Manufacturers continually need to cope with modified ranges of components. Production planners are looking for extremely flexible machines that can efficiently cut the gears of steering pinions, worm gears and screws.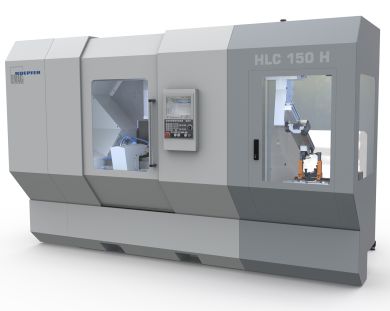 EMAG accomplishes this task with its horizontal gear-cutting machine HLC 150 H -- a complete solution in every way.
This high-performance machine is able to manufacture a very wide range of workpieces -- transmission and anchor shafts, pinions, and planetary gears with maximum lengths of 20 inches. It includes all relevant gear cutting technologies such as gear hobbing, skiving, screw milling, worm skiving and chamfering.
Workpieces up to module 3 can be finished without burrs, meeting high quality requirements. You can't ask for more flexibility in gear production.
Low Cost Universal Machining
"This was exactly the question that started the development of the HLC 150 H machine," explains Peter Loetzner, President & CEO of EMAG L.L.C. "Our answer was to develop a universal solution with high-performance components. We are using all relevant machining technologies including chamfering. We have a large axis maximum center distance of 5 inches, and a powerful 28 kW cutter head. As a result, we can efficiently cut gears on a wide range of workpieces up to module 3 with a maximum crown circle diameter of 6 inches, and up to 20 inches in length. The customer benefits from lower costs and higher workpiece quality."
At IMTS 2018, Peter Loetzner, President & CEO of EMAG, details the advantages of the HLC 150 H gear-cutting machine.
Transmission shafts are a good example of this approach -- the HLC 150 H guarantees hobbing and chamfering completely free of secondary burrs. After first rough-machining the gears, the gearing is deburred. The finish is applied during the second hobbing step. The result is an entirely burr-free chamfered gear.
In addition, the HLC 150 H has many features to reduce costs -- for instance, the energy-efficient frequency-controlled hydraulic units, and the fact that the media supply is only activated when required.
Furthermore, the counter bearing with its quick-clamping system and the easy accessibility of the machine allow for quick changing of all tools. Non-productive downtimes, such as for changing batches, are minimized.
Workpiece Quality Guaranteed
During the milling operation, the cutter head with its very rigid suspension always completely moves. The shift axis is based on the interpolation of two axes. This results in a large swivel angle for the cutter head, and a large shift path at the same time allow for a very smooth and precise milling process.
A similarly important feature is the chip disposal concept by EMAG. Users benefit from the free downward chip flow without any chip build-up. That is why the machine is also perfect for dry machining.
Modular Automation Concept
A modular automation concept is available for this machine, providing for short chip-to-chip times. The HLC 150 H can be loaded either manually, or with an automation system.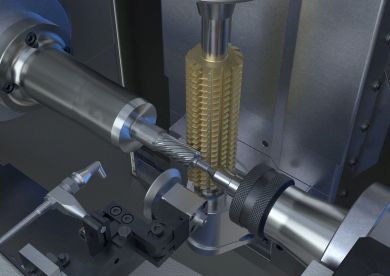 As a second option, lighter components up to 7 lbs. are handled by an integrated high-speed gantry loader with rotating twin gripper.
"This machine really has it all: high-performance machining with the 28 kW cutter head, press deburring integrated in the machining area, or chamfering for end-to-end processes and flexible automation for easy integration into production lines. The bottom line is that the costs for machining steering components or transmission shafts will decrease, while the quality increases. We are convinced that the HLC 150 H has the best market opportunities in the automotive industry and with its suppliers," summarizes Loetzner.
Want more information? Click below.