World's First Dual Vacuum Gripper Gives Robots Two "Hands"
Purple Robotics, which developed an innovative vacuum gripper within just one year -- the world's first gripper specifically for cobots -- has now been acquired by OnRobot. The acquisition takes place a mere two months after the OnRobot merger of three robotics companies from the United States, Hungary and Denmark that created one global player with a strong focus on the market for industrial robot accessories.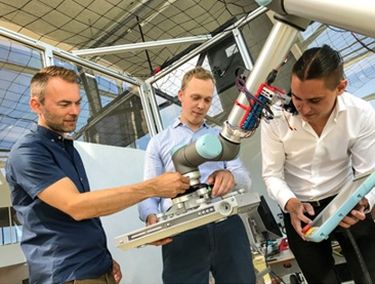 Now, OnRobot adds another trail-blazing technology to the product mix. With the acquisition of Purple Robotics, OnRobot can now offer its partners the world's first dual vacuum gripper.
"It has been really good fun to create a brand new robotics company and to disrupt the market for vacuum grippers with our invention," said Lasse Kieffer, one of the three founders of Purple Robotics. "It makes a lot of sense and creates significant synergy to join forces with OnRobot, which has already created a strong, global sales organization. This means that we can focus 100 percent on developing the world's coolest robotics products. Together, we can go far."
The Purple Robotics dual vacuum gripper can, so to speak, give a robot arm two "hands" and thereby the ability to handle several items simultaneously and solving multiple tasks in one movement. Additionally, it has an electric pump integrated in the gripper itself, meaning users do not need to worry about hoses, compressed air, and cables as with conventional vacuum gripper solutions.
The vacuum gripper meets a clear need in the global industry for efficient and flexible robot solutions that are simple and quick to commission. It takes less than 30 minutes to install the Purple Robotics gripper on a robot and start it up. The vacuum gripper is able to gently and efficiently handle items of many different dimensions, weights, materials and shapes. The lifting capacity is 22 lbs. The gripper is designed for use on a wide range of light-weight robots from all robot manufacturers.
After the spring merger of the three robotics companies OnRobot, Perception Robotics and OptoForce, the OnRobot product range now features a wide assortment of robot equipment, including electric grippers, force-moment sensors, gecko grippers and tactile sensors.
Want more information? Click below.