5 Cobot Myths Debunked
Collaborative robots, otherwise known as cobots, have wowed the machine tool industry with their unique capabilities representing some of the most exciting advancements in robotic technology today. Yet there are still a lot of misconceptions about what cobots actually do -- and more importantly what they don't do. To help clear up the confusion, the experts at Universal Robots take on the five most common cobot myths.
Myth #1: Robotics Automation is Only for Complex, Large-Scale Operations
When most people think of robots, the image of a large, lumbering box used on assembly lines often comes to mind. But the reality is, with the flexibility of cobots, companies can automate even the simplest of tasks. Regardless of the scale of output, cobots can be deployed for processes that are repetitive, manual, or potentially strenuous for workers -- such as pick and place, packaging and palletizing, screw driving, gluing, dispensing, and welding.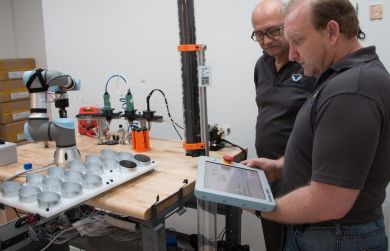 Einar Rosenberg, CEO of Creating Revolutions, with a UR3 robot handling the assembly of a service pager for the hospitality industry.
At Creating Revolutions, a small Miami-based start-up that makes a customer service paging system for the hospitality industry, assembling its communication disc is a complex task requiring great accuracy and repeatability, which prompted the start-up to look into automation.
The company looked at 40 different robot companies. "The UR3 was elegant, smooth, and offered the exact precision we really wanted. It's so exact that it's even turned into a selling point, easily impressing our customers," said Einar Rosenberg, Creating Revolutions CEO. Before the UR3, Creating Revolutions experienced double-digit rejection rates. Now, with the UR robot in place, that number has fallen to less than 1 percent.
Myth #2: Robots Replace Jobs
For a long time now, the message within manufacturing has been that robots steal jobs. Quite the opposite is true. Robots actually relieve workers from strenuous and repetitive tasks so that they can take on better, more exciting roles within the company. And, with the robots helping to increase productivity, companies often find themselves in a position to hire more people, thus creating jobs, not eliminating them.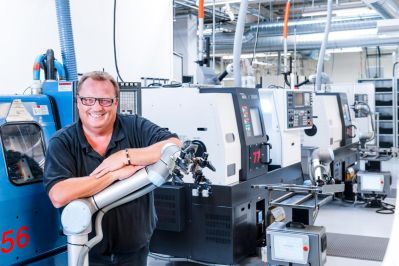 42 UR cobots at Trelleborg Sealing Solutions increased efficiency and competitiveness resulting in the company hiring 50 new employees.
A company that experienced this first-hand is Trelleborg Sealing Solutions in Denmark. It needed a single way to optimize production for orders -- from one unit to several million. Customers were demanding lower prices, higher quality and faster delivery, and global competition was gaining on them in market share. The company was faced with constant demand for increased efficiency on all fronts.
To accomplish its many goals, Trelleborg sought out Universal Robots. With UR's flexible, lightweight robot, Trelleborg has a useful tool to optimize everywhere within its production. In just two short years the company went from zero to 42 robots and hired 50 extra employees to manage it all.
Notes Jesper Riis, head of production, "Universal Robots has made a huge difference on our production line. Now we can produce at a much more competitive price than ever before."
Only 10 percent of jobs are fully automatable, and with cobots the production rises 50 percent -- without job losses. From 2017-2020, robots will create upwards of 2 million jobs globally, but no machine will ever replace human dexterity, critical thinking, decision-making and creativity.
Myth #3: It's a Hassle to Implement and Maintain Robots
It's true that there are some robots that are large, cumbersome and difficult to operate. One might say they practically require a PhD to run them. But not cobots. Cobots are easy to implement, operate and maintain. And, because they're so compact and lightweight, there is no need to change the production layout when switching the cobot between tasks. They're easily programmed or re-deployed, and require minimal maintenance.
RSS Manufacturing and Phylrich in Southern California uses a UR5 cobot to load and unload parts in a CNC machine. The company had the robot up and running in just 45 minutes.
At RSS Manufacturing and Phylrich in California, a short-run production company, it only took 45 minutes to set up and program the Universal Robots unit to perform simple tasks. Deploying a UR5 robot for its machine tending increased production speed significantly while opening up 30 percent more capacity on existing machinery, enabling RSS Manufacturing to compete with overseas manufacturers.
RSS required flexible automation solutions -- robots have to be moved and programmed quickly, and taken from machine to machine. With Universal Robots, set up time between jobs is now only around 30 minutes, which greatly impacts overall efficiency. "If you can write a to do list, you can program the robot," said Shane Strange, automation and integration specialist with RSS. "The most beneficial part of the robot is the interface control so you can be right there next to it and troubleshoot as you go. You can do your programming from a handheld device. The convenience is unbeatable."
Myth #4: Cobots are Dangerous
With traditional robots, it's impossible to work with them side-by-side without some serious safety concerns. Given their built-in safety functions, cobots and individuals can work in tandem without needing cages (subject to assessment).
Universal Robots new e-Series cobot line has 17 safety functions certified by TÜ V Nord and is in compliance with EN ISO 13849-1 and EN ISO 10218-1 machinery safety standards for unobstructed human-robot collaboration.
Myth #5: Robots are Costly
There is some truth to this myth -- robots can be expensive. But that is not true for every kind of robot. For cobots, upfront costs are typically only 20 percent of traditional robots, with an average payback period as short as six to eight months. Cobots are cost-effective and their installation requires minimal investment, given they do not need major infrastructure changes. And, unlike traditional robots, they can also be redeployed to different functions in the production line and used around-the-clock.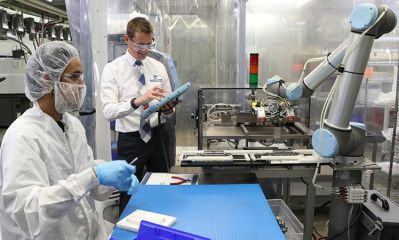 "We were rookies at this. To have such success out of the gate is unprecedented and completely unexpected," says Joe McGillivray, CEO of Dynamic Group in Minnesota.
For Dynamic Group, an injection molder in Minnesota that manufactures medical devices and other precision products, the challenge was finding people to work on its manufacturing lines. With its headquarters in an area with low wages and high unemployment, it looked to Universal Robots to implement tasks that normally would have been done by a human.
After installing three Universal Robots, Dynamic Group experienced a 400 percent increase on injection molding production, paying themselves back in only two months. "My initial assumption was that this would cost hundreds of thousands of dollars and extra hires, and I was just wrong," said Joe McGillvray, CEO.
Want more information? Click below.