Indexable Cutter Can Start a Hole from a Solid Piece
BIG KAISER is introducing two versions of the C-Centering Cutter, a multifunction cutter capable of spot drilling, centering and chamfering. This new product will be at IMTS.
The C-Centering Cutter is an indexable cutter that uses a specialized insert that can start a hole from a solid piece, something extremely difficult to do. It can also perform spot drilling and 90-degree chamfering at the same time or can strictly be used for hole chamfering.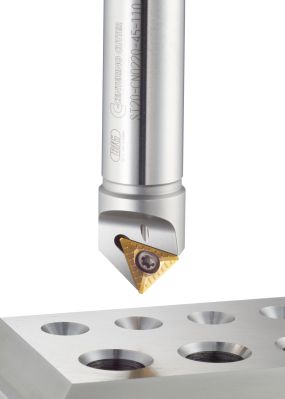 During spot drilling, the insert nose radius can be easily chipped with general cutters since the center has a peripheral speed of zero. The coolant hole in the C-Centering Cutter allows cooling of the cutting edge, which reaches high temperatures during spot drilling, and enables immediate chip evacuation. This prevents chipping during spot drilling.
A benefit of indexable tools is that its life is significantly extended. Once a carbide tool is worn out, there is no other use to it and ends up being thrown away. With an indexable cutter, a small insert can be replaced when worn out, so the cutter body can be reused multiple times.
The new version of this tool that will be showcased at IMTS is a three insert C-Centering Cutter, which is only used for chamfering. This version is perfect for general chamfering and results in a reduction of cycle time over using the single insert version.
Want more information? Click below.
Copyright © 2019 by Nelson Publishing, Inc. All rights reserved. Reproduction Prohibited.
View our terms of use and
privacy policy
::m::