Plug-and-Play Cell Integrates 5-Axis Machine, Robot Loader, and Vertical Pallet Storage
New multi-spindle, five-axis machine tools from SW North America feature integrated robotic loading and unloading, plus vertical pallet storage for workpiece blanks and finished parts. In addition to high-speed, high-precision machining, these plug-and-play manufacturing cells feature drastically decreased commissioning time so customers can realize productivity benefits and profitability much more quickly.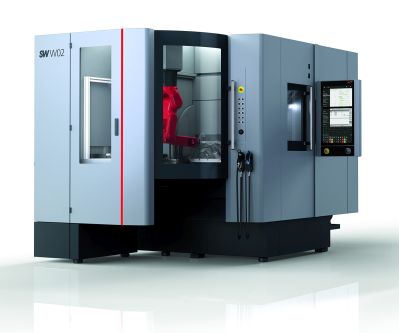 The benefits of independent cellular manufacturing include high-level availability and easily scaled capacity, all while increasing production efficiencies and lowering costs.
"Cells are especially well-suited if a company is relying more on multi-shift operation, where one employee is responsible for several machines," notes Wolfgang Armleder, SW director of development. "Independent cells can also deliver reliable tracking of quality and process data. Loading modules are an ideal basis for this because their deposit pattern is always nearly identical and outward transfer of SPC-measured parts can be planned."
These new cells consist of dual-spindle SW BA 222 or BA WO2-22 machining centers together with integrated 6-axis robot for loading and unloading and vertical pallet storage unit for blanks and finished parts.
Many conventional automation solutions consist of two-part systems requiring a good deal of time to commission and integrate into production. The SW cells by comparison are a crane-hook system for straightforward installation and setup. The robot is mounted overhead for increased freedom of motion and the pallet storage unit is set off to the side, allowing manual loading and unloading if needed while occupying a compact footprint.
"Components are mechanically connected and completely set up before the cell leaves SW," Armleder adds. "Coolant return, swarf conveyor, and electrical installation all take place, with the result being a complete, independent manufacturing cell for customer use."
Pure Productivity
The two-spindle BA W02-22 machining center with linear and torque motors is setting new standards in 5-axis machining. With a compact 4 square-meter footprint, shops can manufacture complex workpieces made of non-magnetic materials at high speeds. That makes this machine ideally suited for a highly diverse range of applications in precision engineering, including the watchmaking industry and impeller manufacturing in the automotive industry. Wear-free direct drives ensure the lowest total cost of ownership due to maximum availability.
The powerful 7-kg robot can accommodate workpieces up to 100 x 100 x 50 mm up to 1.0 kg in mass, and can use multiple grippers to load and unload in parallel with machining time. For small batch sizes, manual loading can also take place. "This design features a special arc-shaped robot loading door, allowing nearly unrestricted access for all setup tasks at the loading station," Armleder adds. "We created a special solution for this so that swarf and coolant can be reliably diverted from the entire robot area to the swarf conveyor."
Efficient Storage Capacity
The vertical pallet storage unit can be fitted with a maximum of 24 pallets 600 x 400 mm in dimension. System runtime at 1 minute per every two workpieces is 9.6 hours, the equivalent of a 64-meter belt conveyor. In contrast to chain systems, pallet transport is based on an elevator-car approach employing a wear-free ball screw drive, allowing pallet loading and unloading at optimum and consistent heights.
Want more information? Click below.