8-Axis CNC Performs High-Speed Laser Cutting and Milling with Single Clamping Operation
CNC specialist NUM has helped Original Point Machine Tools (OPMT) to develop an advanced 8-axis CNC machining center capable of processing many different types of materials including metal.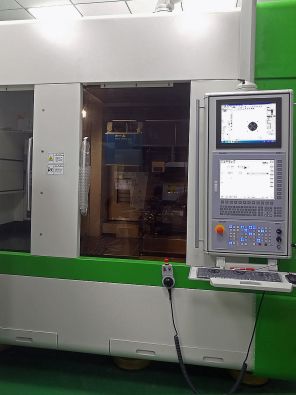 OPMT is a relatively small but fast-growing company based in south China. It is rapidly acquiring a reputation for innovative complex engineering: after developing a highly successful 4-axis milling center for an automotive production line, it then created a compact 5-axis milling station for the dental industry.
For its latest project, OPMT was asked by Guangdong University of Technology to develop a machining center that combined high speed laser cutting and milling capabilities. The result is the ML125 8-axis multi-function machining center. The machine has a dual laser head that is capable of switching between a 20-watt picosecond laser for very high speed cutting and an ultrafast 10-watt femtosecond laser for improved process quality. The femtosecond laser is capable of drilling and cutting almost any type of material, and its very short 1030 nm wavelength means that it is suitable for micro/nano processing applications.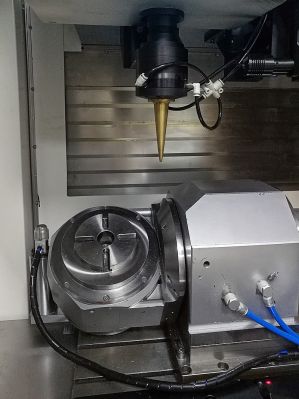 Entirely controlled by NUM's latest-generation Flexium+ 68 CNC platform, the ML125 machining center has eight servo axes, two independent NC channels and fast application-specific I/Os embedded in the NCK hardware. Movement of the fully articulated laser head is controlled by five NUMDrive X servo drives, with high speed interpolation between all five axes -- and the CNC system provides a full RTCP function.
By employing a special hollow shaft torque motor and a linear motor drive, the dual laser head has an exceptionally high positional accuracy of 8 micrometers (0.008 mm), with a repeatability of just 5 micrometers. The associated A/C axis rotation platform has a precision rotary feed function with a positional accuracy of 5 arc minutes. The milling head uses a 40,000 rpm spindle motor, and laser cutting and milling can be performed with just one clamping operation, which further improves process accuracy.
Want more information? Click below.
Copyright © 2019 by Nelson Publishing, Inc. All rights reserved. Reproduction Prohibited.
View our terms of use and
privacy policy
::m::