An "Eastern Expansion" for IMTS 2018
As a result of the strong manufacturing economy, IMTS is expanding its exhibit space onto Level 2 of McCormick Places's East Building. New areas will include:
Machine Components/Cleaning/Environmental Pavilion
Controls & CAD-CAM Pavilion Annex
HANNOVER MESSE USA Areas:
IAMD Digital Factory Display
Surface Technology USA
ComVac USA
Industrial Supply USA
Machine Components/Cleaning/Environmental Pavilion
The Machine Components/Cleaning/Environmental Pavilion features more than 300 exhibitors that provide components essential for safe, efficient, and environmentally responsible operation, service, and monitoring of machines and facilities.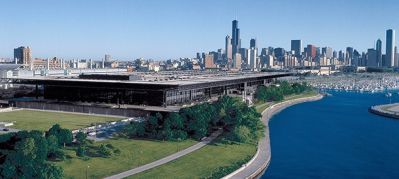 Sometimes called the Lakeside Center, the East Building was the original McCormick Place footprint, a true indicator of the breadth of manufacturing technology growth since IMTS first occupied this venue in 1972.
Exhibitors showcase reclaim, reuse and recycle technologies, products for washing, purification, filtration and separation, material handling systems, and motion control components, as well as environmental management software.
Controls & CAD-CAM Pavilion Annex
The Controls & CAD-CAM Pavilion Annex, located on Level 2, features 40 exhibitors displaying and demonstrating digitally enabled tools that will help define Smart Manufacturing, the Industrial Internet of Things, Industry 4.0 and other advancements in the digital enterprise.
Visitors will learn how to be part of the trend to further connect islands of digital data into a fully integrated solution. Offerings include CIM/CAD/CAM systems, CNC controls, automation management systems, communications systems and LAN, software development systems services, computers and software, instruments-controls, and systems integrations services.
Hannover Messe
The exhibits and events associated with the co-located show HANNOVER MESSE USA increases the attraction of the East Building. With approximately 550 additional exhibitors occupying 130,000 sq. ft. of floor space, HANNOVER MESSE USA features on Level 2 include an IAMD Digital Factory Display and exhibitors that focus on industrial surface treatment and finishing (Surface Technology USA), compressed air and vacuum systems (ComVac USA), and industrial subcontracting and lightweight construction (Industrial Supply USA).
Want more information? Click below.