Power Chucks Can Be Changed in Less Than a Minute
Manufacturers can change their chuck jaws in less than one minute with Pratt Burnerd America's Grip Fast Power Chucks.
Counter Centrifugal design maintains jaw force at high speed -- up to 6,000 RPM using standard top jaws -- without loss of gripping force, due to internally counter-balanced design.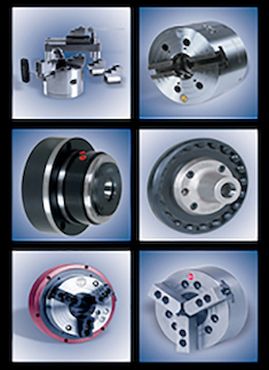 They utilize existing top tooling by selecting style of master jaws, 1.5 x 60 degree, 90 degree, Acme, Tongue & Groove or Square Serrated Top Jaws. The chuck jaws double as collet chucks that accept collet pads in the Master Jaws. Chuck sizes range from 6" thru 32".
PBA/Atlas Self-Contained Dead Length Air Collet Chucks
Truly front mount self-contained Air Collet Chuck does not need a draw tube or air feed tubes that restrict the machine thru-hole. Available for 5C, 16C, B42, B60 and B80 Collets for maximum bar up to 3 1/16". Ideal for all turning machines, rotary tables, and grinders.
PBA/Atlas Front Hand Wheel Quickie Collet Chuck
Easy to mount and dismount with no linkage needed, this chuck is ideal for quick changeover from standard chuck to collet chuck. It uses 5C collets that range from 1/16" to 1 1/8". Quick lock and unlock with a simple turn of the wheel, these chucks are available in A, D, L type mounts, threaded mountings, and custom mountings for rotary tables.
PBA Front Mount Self-Contained 3-Jaw Air Power Chuck
No Draw Tube or Hydraulic system needed. Allows full use of the machine thru-hole.
Ideal for Engine Lathe and Flat Bed CNC Machine with no Hydraulic System.
PBA/Atlas Standard Power Chucks 6" -- 24" Sizes
All high-speed 2 and 3 Jaw Power Chucks' internal components are hardened and ground. Featuring interchangeable top tooling with 1.5mm x 60 degree master jaws, these chucks are a direct replacement for most standard power chucks.
Want more information? Click below.