New Generation of 3D Cutting LaserTubes Lower Cost per Part
BLM GROUP USA has introduced the LT7, a new generation of Lasertube capable of 3D cutting, to the North American market. Built using over 25 years of laser tube cutting development experience, the LT7 is designed to improve productivity and accuracy through innovations in tube management and handling.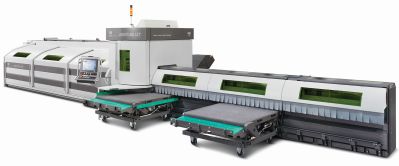 The machine features a 3kW fiber laser that provides a broad working range that allows for easily cutting up to 6-inch round, square and rectangular sections. Special sections and open profiles can also be processed. Loading chains can be extracted from the rear standard bundle loader within seconds, providing the flexibility to load a single bar or open section quickly and simply. The loading and unloading systems also adapt to accommodate short and long parts with innovative tube supports throughout the process.
At the end of each production batch the LT7 configures itself for the next batch for quick changes in production and higher productivity, regardless of the new sections to be made -- round, square, special and even open profiles. No manual adjustments are necessary. This advantage results in higher output and a lower cost per part.
The LT7 further supports productivity and quality enhancements through the machines mechanical rigidity, which allows high levels of acceleration without compromising accuracy.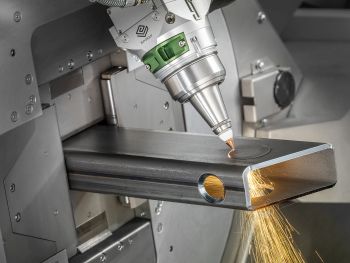 Exclusive patented technical solutions ensure ease of use for operators, regardless of their experience. Technologies include:
Active Scan -- eliminates errors induced by distorted tubes
Active Tilt -- uses focus head movement to provide fastest processing of small features
Active Focus -- provides error free cuts regardless of changes of material and thickness
Active Marking -- offers dynamic part marking for complete production traceability
Active Speed -- ensures higher cutting quality on the most critical jobs
Active Piercing -- increases piercing speed and reliability even on inconsistent material quality and thickness
Two exclusive software programs -- Protube and Artube -- enhance the versatility of the LT7 Lasertube, helping to keep production under control and bring design ideas to life.
Want more information? Click below.
Copyright © 2019 by Nelson Publishing, Inc. All rights reserved. Reproduction Prohibited.
View our terms of use and
privacy policy
::m::