3 Key Areas to Reduce Costs with Lean Techniques
While the principles behind lean techniques can be applied to nearly any business, the term "lean" is most often associated with process improvement and cost reduction in manufacturing. The process inefficiencies that lean techniques address aren't unfamiliar or exotic; in fact, they exist in every operation. Here are three areas where implementing lean techniques, along with an ERP system, could save you a lot of money.
Companies most often implement ERP systems because they want to integrate and manage disparate business processes with a single point of control. While an ERP system provides a framework for achieving business process efficiency, simply implementing one may not be sufficient to achieve the expected results.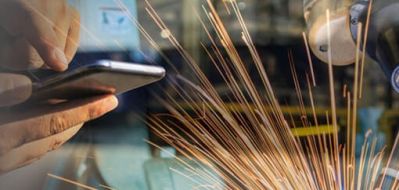 Carl Heeder is director of ERP Systems at IDEV Technologies, Inc., a developer and manufacturer of medical devices headquartered in Webster, Texas, Heeder has identified three areas where the application of lean techniques to existing business processes would yield immediate benefits: purchasing and suppliers, sales orders, and shipping. Even though these processes were external to the manufacturing process itself, the lack of automation impacted how well the company could deliver product to its customers.
Purchasing and Suppliers
In terms of purchasing and suppliers, the ERP system provides the capability to restrict the purchase of parts to approved suppliers. Table 1 shows how IDEV modified business processes through tailoring to achieve lean results.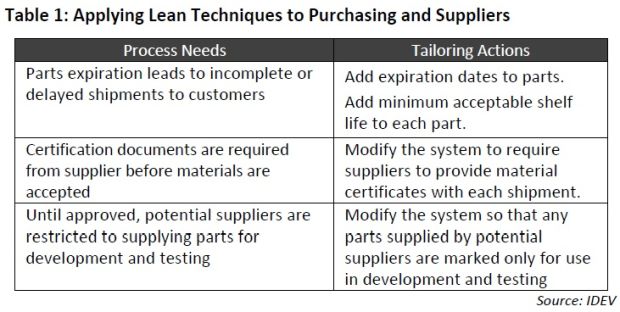 Heeder tailored the Epicor system processes at IDEV and it resulted in the following benefits to purchasing and to the company's vendors:
Because purchase orders now included requirements, the need to approve individual purchase orders was eliminated.
As part of the receiving process, the system now reported on the parts characteristics, such as their expiration date and whether they came from approved suppliers.
When materials are received, parts information was made available for incoming inspection and purchasing was automatically notified if parts deviated from required material standards.
Materials received from potential suppliers were automatically assigned non-production lot numbers, so that unapproved parts couldn't be used inadvertently.
"The Epicor software came with the capability to restrict the purchase of certain parts to approved vendors," says Heeder. "We simply used tailoring to modify and extend that functionality to meet our specific requirements."
Sales Orders
A second area at IDEV that benefited from the application of lean techniques was the sales order process.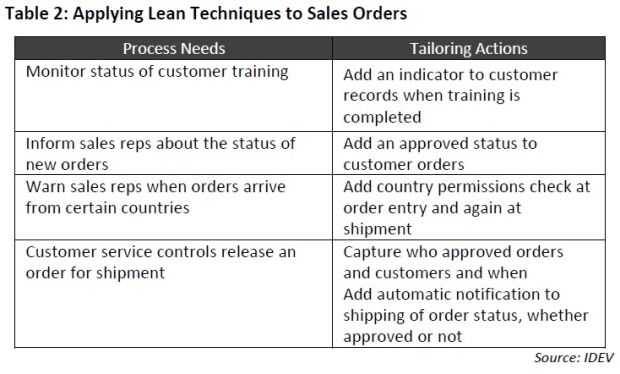 As a result of these changes, customer service established more rigorous control over the sales order process:
Customer service now receives a warning if a customer's training certificate is not on file.
Customer service now receives a warning if a sales order is submitted for a country that is on the prohibited list.
Both sales representatives and the sales manager are sent emails on the receipt of a new order. If needed, the system also provides a warning about the status of the customer's training certificate.
Shipments are only allowed on orders that have been approved by customer service.
Heeder says, "Giving customer service control of the sales order process was essential to reducing order processing time; it was the right place to introduce controls."
Shipping
Shipping was the final area to receive attention for process improvement, which made sense since shipments depend on the completion of tasks in the other areas, and is the endpoint for their efforts. Most of the changes involved preventing shipments that do not satisfy specific criteria.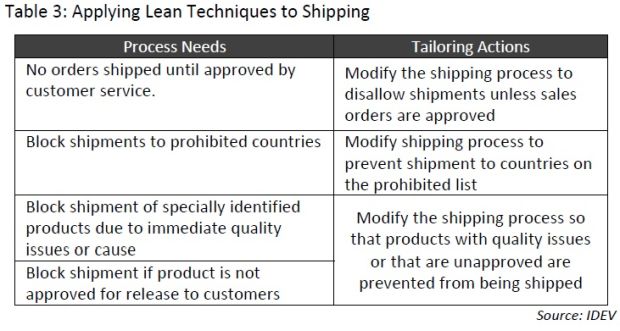 Overall Results
The application of lean techniques to IDEV's ERP system allowed the company to concentrate more on building new business and serving customers, rather than focusing on the mechanics of business processes.
Some of the significant improvements included:
Eliminating the need to manually review each purchase order; purchase order conditions can be predefined according to customer or geographical region. The ERP system replaces manual order processing, thereby reducing delays and speeding up the flow of materials to production while introducing important safeguards.
Eliminating the manual sales order approval process, a major source of delays in processing customer orders. The system automatically tracks customer training and provides sales representatives, sales management, and customer service with a clear view of the status of an order from receipt to fulfillment.
Better control over time-sensitive inventory with automatic safeguards that prevent the use of parts that have reached their expiration date, or that come from a supplier whose parts are not approved for use in production.
Eliminating the need to manually verify each shipment before release.
Control over processes that affect suppliers and customers is centralized in customer service that now has a consistent set of tools to control the flow of business.
"Letting the system automate the manual processing of purchases, orders, and shipments has substantially improved the flow of product to the customer," Heeder concludes. "We have a higher level of control and oversight on all these areas, which is critical to the efficient handling of new customers and increasing sales."
Want more information? Click below.