Merged "Single Source" System Offers Complete Chip and Coolant Management
Jorgensen Conveyors, Inc. and Weima America, Inc. have become strategic partners in Total Chip Management.
Jorgensen's extensive offering of machine tool chip conveyors and coolant filtration equipment have been combined with Weima's proven Metal Shredding and Metal Briquetting equipment to become a "single source" for the entire chip and coolant management process.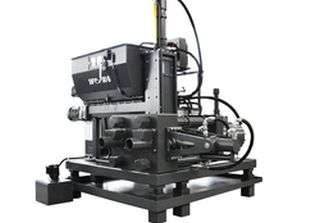 Integrating Jorgensen's line of conveyors into a complete chip processing system which includes the shredding and briquetting of metal chips and shavings is the ideal starting point for further processing or selling of metal scrap.
With aluminum, magnesium, copper, brass, steel and other metals, a volume reduction of up to 90 percent is possible. This reduction in volume represents a significant cost savings in labor, increased scrap value and the extraction of cutting fluids to be reused. Reduced disposal, transport and storage costs can also be realized from this complete system of metal recycling.
The M Series (Matrix Press) Briquette Press is designed for metal applications. Shredded material is fed into the hopper either by a conveyor or a dust-collector system. The agitator will start to spin, pushing the material into an opening at the bottom of the unit. An auger fills the pressing chamber and material is transferred into the cylinder where it is densified into a briquette. No glue or adhesives are used as a binding agent. The result is a clean, reusable product.
Want more information? Click below.
Copyright © 2019 by Nelson Publishing, Inc. All rights reserved. Reproduction Prohibited.
View our terms of use and
privacy policy
::m::