Laser Welding Continues to Help Patients Eliminate Pain
Gino Mercurio is a manufacturing engineer for the Boston Scientific Neuromodulation Division (Valencia, CA), which manufactures implantable pulse generators (IPGs) that are used to stimulate the spinal cord to eliminate pain in patients.
Thirteen years ago, laser technology was introduced to various processes used in the assembly of spinal cord stimulation devices. One of the primary laser uses is bonding very small connection areas where the weld nugget size is critical. The laser technology ensures consistent weld nuggets, resulting in long-term reliability in patient use.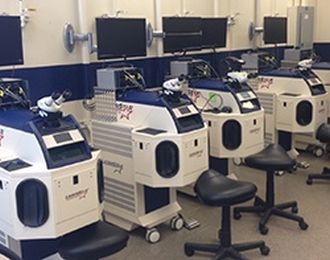 Very small connection area bonding was one of the earliest industrial solid-state laser applications dating back to the early 1960's, when the processing advantages of delivering precisely controlled amounts of laser energy to join fine wires to contact points gained widespread acceptance. Pulsed laser-produced energy was ideal for low-distortion fusion joining of fine wires.
As the required energy density in a larger-diameter focused spot to produce a relatively broader electrical contact area for higher current-carrying capacity increased, the average output power of the lasers increased. Also, units with sufficient power on a pulse-to-pulse basis with long-term output power stability over many thousands of pulses became the norm in industries with wire-to-contact assembly operations.
At Boston Scientific, as production ramped up on the implantable devices using an already installed laser welder, Mercurio was looking at the latest laser welding technology to use on its production floor to continue building product at increased volumes with high quality.
In 2005, Boston Scientific purchased its first LaserStar Laser Welding System to replace its older laser unit. Since then, based on overall laser system reliability, Boston Scientific has added more than 20 LaserStar units across the organization.
Specifically in Valencia, LaserStar laser welders are being used both in a manual configuration as well as upgrading to two fully automated laser welders for higher-volume production. Answering Mercurio's reliability needs, the original LaserStar unit is still in production, operating on a routine production schedule with little or no service requirements. He calls this unit a "workhorse," having only done routine maintenance on it.
Want more information? Click below.