Michigan Manufacturer Becomes Major Builder by Going "Retro"
Century Tool and Gage Company bought and retrofitted its first Heyligenstaedt vertical mill in 1987 with the first Fidia CNC Control System in North America. Today, with on-going control upgrades and new CNC machine tools being installed, the number is well over thirty.
Century Tool and Gage has been growing steadily since the late 1970's by adding more SMC, RIM and urethane parts in the transportation industries. Today, the Fenton, Michigan manufacturer has become a major builder of molds and secondary tooling for the automotive, heavy truck, aerospace and personal watercraft industries.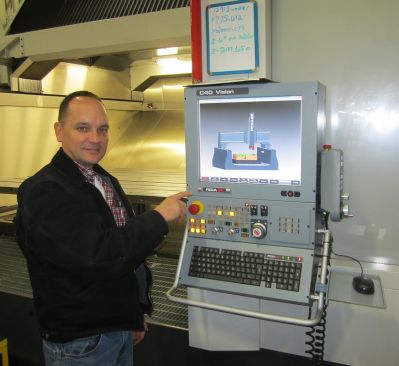 Mickey Guckian, manufacturing manager of programming at Century Tool points to Fidia's C40 control currently on Century Tool's new Fidia GTFM.v3 5-axis gantry machine.
Century Tool specializes in compression molded exterior Class A and reinforcement panels for truck and trim applications and 75 percent of the exterior body panels. Century operates in a new 125,000 sq. ft. manufacturing facility capable of handling 60-ton machine block sizes up to 100-inches wide and 300-inches long. The plant is equipped with four 5-axis CNC Machining Centers, seven heavy-duty vertical and horizontal machines, three CNC heavy-duty multi-spindle travelling column gun drilling machines, twenty-nine CAD/CAM workstations, and a try-out press facility with capacities of 500, 600, 1500 and 3,000 tons.
The operation certainly didn't start out that way.
Mickey Guckian, manufacturing manager of programming for Century Tool and Gage Company says, "I remember when Century Tool purchased the first Fidia Control System in North America in 1987. It was installed on a two-spindle Heyligenstaedt vertical mill, I was running that machine! It had dual 8-inch floppy drives, which was unique at the time, but it gave us the ability to greatly improve the feed rate for the complex milling routines we were running for the large compression molds we were manufacturing."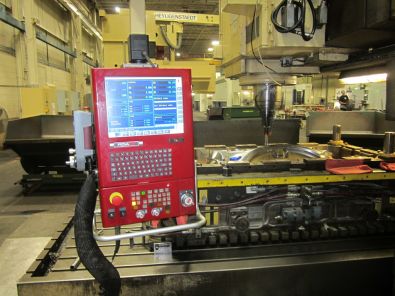 One of Fidia's C19 controls retrofitted to each of the 4 Heyligenstaedt vertical milling machines at Century Tool and Gage in Fenton, Michigan. The C-19 is an economically-priced compact touch screen control to retrofit 3-axis machines.
"Without question, a large part of Century Tool's success has been the ability to become a low-cost, high quality mold supplier," Guckian says. "Retrofitting and updating has been a big part of that. All of our milling machines are CNC programmable and utilize Fidia controllers for high-level accuracy, dependability and productivity."
Each machine has automatic scaling features and is connected, via ethernet, to their computer room for continuous transfer of CAD data. They run the full array of software programs, which allows Century Tool to have the flexibility to expand the customer's product design ideas, but also the ability to communicate in direct language formats. Solid modeling software allows experienced personnel to aid the customer in the completion or redesign of the component.
"We use a unique paperless shop that bridges the gap between engineering and manufacturing, seamlessly implementing shop floor programming, design review and implementation," added Guckian.
Jorge Correa, Fidia VP of Sales North America, points out, "Century Tool is a great example of what can be done with control retrofits to bring existing CNC machine tools to state-of-the-art levels. Since 1987, Century Tool has utilized Fidia's CK10, CK20, COMPAC, C2, C20, a couple of tracing systems, and now our newest C40 controls. They have also purchased one of Fidia's GTFM.V3 5-axis gantry machines."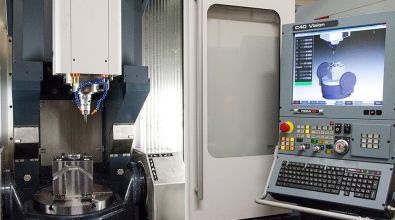 ViMill is an anti-collision system that operates on the machine and is fully integrated into the Fidia numerical control.
Century Tool employees spotted the Fidia C40 Vision Control with the unique ViMill software at the last IMTS Show. It is one of the most powerful numerical controls for advanced CNC high-speed, multi-axis applications. With multi-processor architecture managing user-interface, axis and tool path control, ViMill™ real time anti-collision software all work together with the milling path control feature of Velocity Five™ trajectory control technology to allow the fastest machining speed to achieve high-quality surface finish. After implementation, the operators at Century Tool observed the following benefits:
The software is extremely user-friendly so it is very easy to train operators.
The operator has the ability of use the handwheel on-the-fly for the x-y-z axes and also normal t vector compound angles -- no other control has that feature.
Excellent surface finish is produced because of the precise control of acceleration and deceleration.
The collision detection feature -- look ahead -- gives the operator real "piece-of-mind"
Century Tool also uses Fidia's Head Measuring System (HMS), which provides an alternative to the traditional checking method of using dial gages. It reduces checking time and provides measurement of all head and/or table positions. It also provides automatic insertion of correction values in the CNC with graphic reporting. And it lets Century Tool save the settings and "stick with what was set" -- within 5 microns. The machine has run for 8 months without having to change calibration parameters on the head.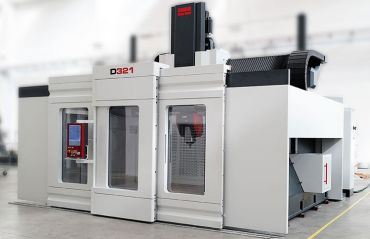 Fidia's D321 has a compact size with a very large working envelope designed for mold finishing applications.
Having multi-processor architecture allows for updates and empowers the system through the partial of total replacement of the PC (memory, hard disks, adapters etc.) without modifying other components. As a result, it is possible to keep the CNC constantly up-to-date with the most powerful hardware and software developments.
Mickey Guckian summarizes, "It's nice to be able to sleep at night and not have to worry about machine crashes. Our customer supplier relationship with Fidia hasn't happened overnight -- my association goes back 33 years. Fidia has been the guiding influence in CNC machine control design that has played a significant role in making Century Tool and Gage a manufacturing and production success."
Want more information? Click below.