State-of-the-Art Vertical Gantry Mill Can Speed Along at 76 m/min
Needing additional capacity, Sonaca Montreal chose Fives Liné Machines located in Granby, Quebec as partner to develop a high speed, technologically-advanced and maintenance-friendly 5-axis gantry mill.
The speed and power of the Liné Machines Powermill V spindle and axes drive systems provide substantial metal removal capabilities. The milling head is manufactured at the Granby facility and introduces a 125 / 156 kW, 30,000 rpm spindle with a HSK A63/F80 tool taper.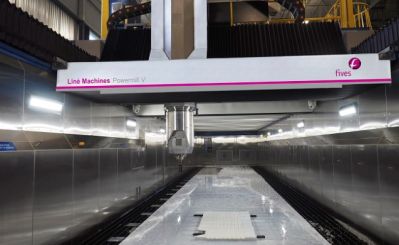 Linear motors produce a 76 m/min (3000 ipm) traverse rate which greatly reduces cycle time. The rails of the high-rail Liné Machines Powermill V are installed on an elevated concrete foundation providing a natural enclosure.
"Working with the customer Fives Liné Machines engineered a superior solution that places a high priority on accuracy, quality, reliability and in-process systems," said Brian Kilpatrick, Regional Sales Manager at Fives Liné Machines. "The solution we developed with Sonaca Montreal integrated vacuum table work holding, programmable high-pressure coolant that facilitates removal of the high chip load, mist collection including a full-length machine roof system, thermal compensation, chip extraction, automated tool changing and tool/part probing systems."
Maintenance and operator-friendly features were design priorities in the development of the Liné Machines Powermill V for Sonaca Montreal. The operator station area includes a monitor of remote gauges with real-time feedback for machine utilities and critical components. HD cameras allow the operator to easily view cutting operations from a safe and remote position. For periodic QA verifications and reporting, a machine health-check system examines machine geometry and the head check cycle assesses the geometry of the milling head.
"The amazing capabilities of this machine are a testament to the team effort that went into this project. We're proud to be able to offer our customers the highest quality parts machined on this state-of-the-art machine," said Sylvain Bédard, CEO, Sonaca Montreal.
Want more information? Click below.