Machining Centers Customized to "Fit Your Part"
Provided by German Machine Tools of America (GMTA), Samag multi-spindle horizontal machining centers, used primarily for high-volume parts, now offered to the automotive powertrain, truck, off-highway and other markets
Now available from German Machine Tools of America (GMTA), a full line of Samag multi spindle machining centers is offered for the North American market.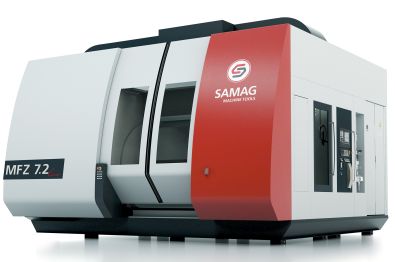 Samag, based in Saalfeld, Germany, with offices and service centers worldwide, engineers and builds a variety of multi-spindle machines, the MFZ Series for high volume cubic work pieces.
The company supplies complete turnkey solution, including tooling, work holding, robotic articulation, parts handlers and transfer mechanisms for high-production work such as knuckles, engine blocks, gear boxes, valves and connecting rods.
The workpiece is the Benchmark
With "FIT 2 PART," the modular construction kit of the multi-spindle horizontal machining center has been developed consistently from the point of view of the workpiece.
Attention was focused on flexibility, among others, the X Y Z axes of the 2-spindle machine can be corrected independently of one another. Four sizes and two types of drive offer options for high-speed machining and heavy-duty cutting.
The number of spindles, the variable distance between them and the extendable tool magazine allow the machining of diverse workpiece dimensions and capacities. All models are available with a linear or ball screw drive and up to 4 working spindles. 5-axis simultaneous machining and a workpiece feed during primary processing time is possible.
The rock-solid machine bed, filled with Hydropol®, is thermally stable and impresses with its excellent damping abilities. Users benefit from productivity increase, flexibility, precision and energy-efficiency.
Want more information? Click below.