Nissan Plant Installs Cobots to Solve Cycle Time Overruns; On Schedule to Achieve Positive ROI in One Year
With an aging workforce and a need to cut extra spending on relief workers due to inefficient production processes, Nissan Motor Company has implemented Universal Robots' UR10 Cobot systems at its Yokohama Plant.
As one of the most recognizable car brands in the world, Nissan Motor Company was facing a problem. In addition to a need for more streamlined production processes at its Yokohama large-scale plant, it was facing up to the reality of an aging workforce and loss of vital skills.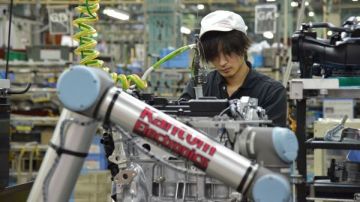 Nissan installed collaborative robots at its Yokohama plant to reduce workloads for staff, increase efficiency and improve performance to help cut unnecessary costs.
Manufacturing engines and parts for electric and hybrid cars, Nissan's 3,200 employees are responsible for processing and assembling machine parts, with close links between the production line and engineering departments. This integrated approach to manufacturing makes it all the more important to ensure employees are supported and given the right amount of experience.
One issue which was causing problems in this area for the plant was the level of "takt time" -- the cycle time of a specific process -- and how this would sometimes overrun, making it necessary to use relief workers, which in turn meant a greater labor and personnel cost for Nissan.
Solution
Two lines of Universal Robots' UR10 robot arms were deployed at the Yokohama plant to offer more time to human workers for obtaining valuable line experience elsewhere, as well as eliminating takt time overruns.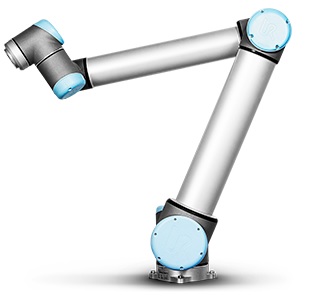 Universal Robots' UR10 is their largest industrial robot arm, designed for bigger tasks that weigh up to 22 lbs.
The robots were initially introduced to loosen bolts on cylinder head cam brackets. According to Mr Fujii of the Powertrain Production Engineering Division, this task needed a specific kind of robot. "The requirements meant the main body of robot should be light and easy to move, compatible with a 100V outlet, and usable without a safety fence," Mr Fujii explained.
Later, the UR10 cobots were employed as part of the process for installing engine block intake manifolds, which meant they would need to work in collaboration with real human workers. This would mean movement across conveyor belts without safety fences, as well as carrying hefty intake manifold components that weighed between 4kg and 6kg when including the robot hands.
"We needed a robot large enough to bear such weight," said Mr Nakamura, Expert Headman for the plant's Engine Section. "Before selecting the robots, we made a comparison with other companies' robots, but in the end the UR10 was selected because of its advantages in cost for a single robot, as well as its weight capacity.
In the ZD process, it was advantageous to be able to readily move using casters. In the process of installing the intake manifolds, only the UR10 had the payload of 10kg among the other products we looked at."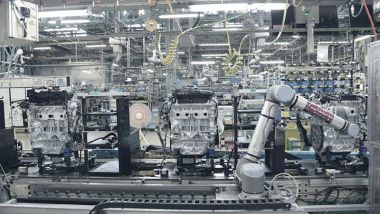 The UR10 cobots need to work in collaboration with real human workers, which means movement across conveyor belts without safety fences.
With a range of safety and features considered, the UR10 robots were installed efficiently and programmed, with operatives trained and basic operations underway in about a week. Programs were adjusted minutely after the installation, and have been operating steadily since, solving the company's takt overrun problem and reducing the amount of heavy lifting required for staff.
"By being able to move the UR Robot to any place we see takt time overruns," concluded Subsection Chief of Engine Section Mr Onishi, "we are thinking about creating production equipment capable of flexibly responding to the situation. We will further deepen the function of a global pilot plant by integrating the strong on-site and engineering capabilities. Therefore, we will certainly increase the number of robots going forward."
Want more information? Click below.