New 5-Axis HMC Offers Large Work Area and High Rigidity for High Loads
HELLER recently introduced the new model HF 5500 5-axis horizontal machining center equipped with pallet changer and offering a work envelope of 900x950x900mm and a maximum pallet load of 750kg.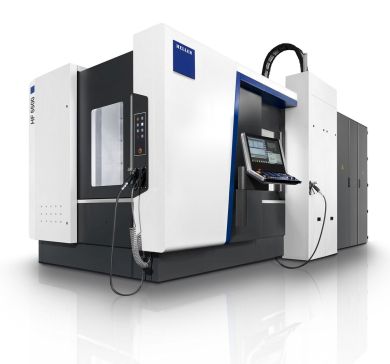 With the 5th axis provided by the workpiece for dynamic 5-sided and simultaneous 5-axis machining, and HELLER's typical horizontal spindle ensuring quick tool changes and short idle times, the HF series offers substantial productivity advantages. In addition, three linear axes in X, Y and Z, are equipped with absolute measuring systems and two direct driven dynamic rotary axes in A and B integrated into a swivel rotary table.
The high speed of the A and B rotary axes is achieved through minimized mass moment of inertia and the use of direct drives. Optionally, the powerful dynamics can be increased further with the "Speed-Dynamics Package." According to HELLER, it provides 10 percent shorter chip-to-chip times. For an additional reduction in idle times, the HF series provides a high-speed NC tool changer with lift-and-swivel principle.
HELLER has equipped the new series with a counter bearing as a unique selling point. The use of the counter bearing in combination with a YRT bearing results in high rigidity for handling high loads.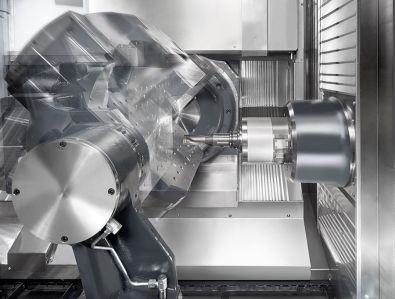 High flexibility was another priority for HELLER in the development of the machine: the machine is either available in table design or equipped with pallet changer.
The HF provides a wide choice of spindles to suit different applications.
While the standard version is equipped with the powerful SC63 SpeedCutting motor spindle with HSK-A63 (18,000rpm, 100Nm), making it ideal for the machining of light metals, the optional PC63 PowerCutting spindle unit (12,000rpm, 201Nm) provides the necessary torque for high-performance cutting of cast iron and steel.
As further options, HELLER offers motor spindles with HSK-A100. The SC 100 spindle unit (12,000rpm, 201Nm) provides increased stability of tools and high speeds for universal application, whereas the PC 100 spindle unit (10,000rpm, 354Nm) offers high torque for use with large and heavy tools.
Want more information? Click below.