High-feed Side Milling Cutters Ideal for Machining Titanium and Nickel-Based Aerospace Components
To help address the predicted growth in the aerospace industry in the coming years, Sandvik's CoroMill® Plura HFS range comprises two end mill families optimized for titanium alloys, and one for nickel alloys. As chip evacuation and heat are specific challenges when machining titanium, Sandvik Coromant has developed a solid version for normal chip evacuation conditions, and another featuring internal coolant and a new cooling booster (patent pending) for optimum swarf and temperature control.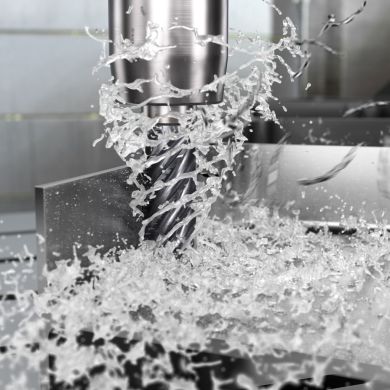 The end mills for titanium are available in GC1745 grade, which is based on a tough, fine-grained (sub-micron), cemented-carbide substrate with sharp, controlled edges for very tough milling operations. Furthermore, a new, multi-layer coating that contains silicon provides excellent wear resistance and low thermal conductivity. The geometry of the cutters is based on a six-flute concept with no center cut and uneven tooth pitch. Additionally, the core dimension has been optimized for higher stiffness in titanium alloys, while the corner radius, rake angle and relief are all designed specifically for machining these challenging materials.
For nickel alloys, grade GC1710 is deployed, which also features sharp, controlled cutting edges. A hard, wear-resistant, fine-grained substrate is optimized to resist high working loads when machining hard, highly adhesive, work-hardened materials such as aged Inconel 718. Here, a new coating produced with innovative HIPIMS (high power impulse magnetron sputtering) technology also offers adhesion-reducing properties to avoid the formation of BUE (built up edge) and increase tool life.
Target aerospace components include titanium wings and pylon parts, as well as engine cases made from Inconel 718. Applications in sectors such as oil and gas, medical and automotive, where titanium and nickel-based alloys are becoming increasingly prevalent, will also benefit.
Want more information? Click below.
Copyright © 2018 by Nelson Publishing, Inc. All rights reserved. Reproduction Prohibited.
View our terms of use and
privacy policy
::m::