Hydraulic Press, Quick Die Workcell, and Siemens Controller Combine to Form Solution to "Rocket Science" Problem
Machine builder develops fully automated die handling system with 15,000-pound capacity to load and unload presses with staging tables for continuous production; die change time reduced from two hours to ten minutes.
Beckwood Corporation in Fenton, Missouri (St. Louis) is a leading manufacturer of custom hydraulic presses, automation systems and the Triform line of precision forming equipment. While their machinery serves a variety of industries and applications, they excel at developing robust aerospace forming technologies engineered for accuracy and repeatability. In detailing the sophistication of their machine designs for this challenging market segment, their website includes something of a company mantra, "It IS rocket science."
Beckwood twin hydraulic presses, each 1400-ton plus Quick Die Change (QDC) assembly with 15,000-pound load capacity and T-table staging devices for fully automated workflow.
One customer, a metalform fabricator and producer of various components for the commercial and military aircraft sectors, brought Beckwood their challenge. The company was seeking a turnkey package consisting of two 1400-ton hydraulic presses and two automated stamping die handling systems to load and unload the presses more efficiently than the conventional forklift and manual labor-intensive system this customer was currently utilizing.
The presses and quick die change (QDC) workcells would be used to form a variety of parts in relatively low volumes, so the system to be designed needed a more automated die handling system. In addition, a 42"-diameter deep draw sheet hydroforming press with staging table was needed. Such a press would be the largest of its kind in the world, once produced.
A critical part of the challenge involved the need for a QDC system with 15,000-pound capacity to feed each 1400-ton press. As Beckwood's lead electrical engineer John Harte explains, "We conducted a thorough review with all our local die cart suppliers and all passed on the bid, citing too many obstacles on that large a load. So, as we often do, we decided to design, engineer and build the system ourselves."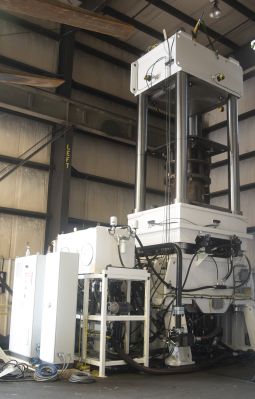 Siemens motion control and HMI are used on the entire system, with Safety Integrated features, allowing operators to remain outside the work envelope, in full machine process and monitoring mode.
The presses each had a footprint approximately 30' square, and the QDC would need to service the presses with T-table staging devices, allowing the next die to be prepped and ready to insert upon completion of the previous run cycle.
With the degree of automation involved, Beckwood worked with the customer's engineering staff to devise a workcell concept comprised of two 4-post presses, each with a QDC system including a cart, rack and T-table with 15,000-pound load capacity. Each press would be over 33' in height and positioned in a 10' deep pit.
As the customer was a longtime user of Siemens motion control and HMI, they specified this supplier for the project.
Harte connected with Derek Eastep, his account manager for Siemens, and the product list for the project began to take shape. Various drives, PLCs, displays and motion controllers were specified. The latter was a critical component, as the motion controller was required to operate all press movements, as well as the motor starters, QDC integration, light curtains that protect the workcell and operators plus area scanners that maintain the integrated safety condition monitoring on the entire cell.
The system logic and data logging setup was to be done by the customer, who had considerable experience with Siemens controls, with the Beckwood team integrating the QDC and overall cell management.
The QDC operates in tandem with the two presses, using four 15HP motors to drive the lead screws on this massive die handling system. They are electrically geared through the onboard Siemens PLC to move the ram and shuttle.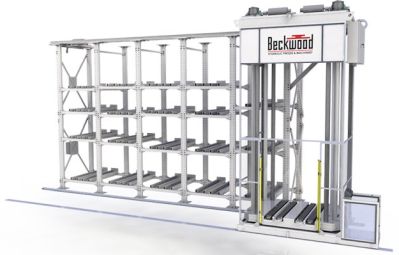 Press/QDC workcell currently utilized by a metalform fabricator in the commercial and military aircraft industries.
Additional motors and drives on the feed tables allow the next die to be positioned during press operation. When a press cycle is completed, the air bags on the feed tables lift the next die for positioning onto the QDC, then a shuttle inserts the die inside the press, with all motion controlled by the PLC. These T-tables and the QDC were designed, engineered, built and tested by Beckwood at their factory prior to shipment and installation at the customer's facility. Both Beckwood and Siemens personnel were active in the commissioning of the entire system.
The PLC is a Siemens S7-1515 -- a robust controller that integrates function control, safety and condition display in a single module with Profinet protocol for bus communication. Through the TIA Portal and Step 7 software provided by Siemens, the end user can customize the operation of the devices remotely, integrating multiple part files and related safety commands in one controller. This "library" feature allows the end user, as they run a variety of parts during a shift, for example, to use one software package to program quickly and more efficiently. Likewise, the safety switches on the entire system are programmed through this secure and redundant safety back-up software through the TIA Portal.
All motor movements on the twin four-post presses are controlled with Siemens drive technology. In operation, the Beckwood presses with the QDC systems are expected to reduce die setup and changeover from approximately two hours to ten minutes.
As Derek Eastep from Siemens notes, "Because the end user was a longtime customer, we performed the application engineering with Beckwood and their customer, fully confident that the system would be set up and running in a relatively short time, as all parties had good familiarity with our protocols." Harte adds, "We used the Selector, Sizer and Starter engineering tools from Siemens to spec and then commission the drives, which saved us a substantial amount of time. It made our lives a lot easier," he muses.
The two 1400-ton presses in the workcells are Beckwood's robust four-post frame style with replaceable, graphite-impregnated bronze bushings and solid chrome-plated posts to ensure precision ram guidance. Designed to form parts with challenging geometries in low-volume, high-mix production environments, the 42" Triform deep draw sheet hydroforming press will be the largest press of its kind in the world.
Josh Dixon, director of sales & marketing at Beckwood, says in the company video, "We hate the word 'no'." The success of this unique and first-of-kind press and QDC workcell, built by Beckwood with the help of its controls supplier Siemens, bears out that statement.
Want more information? Click below.