Faster Engineering and Commissioning with Siemens Safety Integrated Plus
Siemens is introducing a new version of its proven Safety Integrated (SI) function for Sinumerik 840D sI in the form of its Safety Integrated plus -- software for integrated control solutions. Previously, completely separate programs had to be written for the NC Kernel (NCK) and PLC. Now, this will only be necessary for the PLC.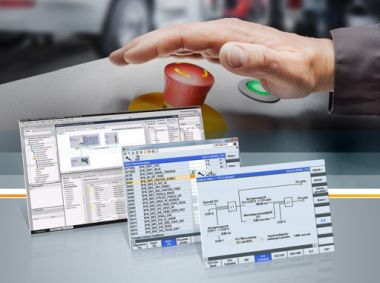 This failsafe program can be generated quickly using the PLC software Step 7, which is integrated as standard in the Siemens TIA Portal. There are a large number of certified failsafe modules available for users in the TIA Portal for this purpose which can be integrated directly into the Safety program. Using the new version Safety Integrated plus, which can be operated interactively with all of the Sinumerik 840D sI NCUs currently available, engineering times can be reduced by up to 50 percent.
The Sinumerik Operate graphical user interface makes for extremely convenient commissioning using graphical screens made available by Safety Integrated plus, which enable tangibly simpler parameterization of safety functions. This allows commissioning to be sped up by as much as 20 percent. Siemens offers Safety Integrated plus as a supplement to the established Safety Integrated software and does not recommend a change-over to the new software for already established machines, as the two solutions offer the same high level of safety.
The new Sinumerik software release 4.8 also comes with an advanced collision protection: Collision Avoidance Eco and Collision Avoidance Advanced.
The Eco version enables simple, reliable machine protection by preventing collisions of the machine body with its own components within the work area. To achieve this effect in real-time, the assemblies which need protection are calculated as simple geometric bodies. This reliable collision monitoring system is available in all three operating modes: JOG, MDA and Automatic.
Collision Avoidance provides a permanent, high level of safety during operation.
Want more information? Click below.
Copyright © 2018 by Nelson Publishing, Inc. All rights reserved. Reproduction Prohibited.
View our terms of use and
privacy policy
::m::