Fiber Laser Cutting System Offers New Featherlight Pallet for Fast Load/Unload
The design team at Automation Alternatives knew that if a system is to be truly cost-effective, it had to combine highly efficient technology with user-friendly operation. The RubyLaser FLC does just that and more.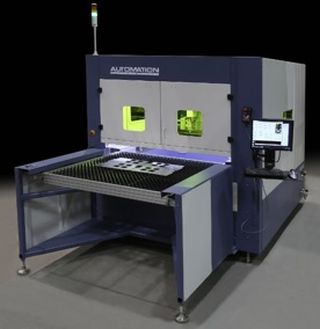 Sporting a compact footprint, the RubyLaser FLC series boasts unsurpassed efficiency using a third of the power as well as less gas than comparable CO2 systems. Additional cost savings are realized from much lower service costs -- service intervals are half as frequent and half the cost.
The system was designed from the ground up with the operator in mind. To that end, a number of design considerations were incorporated that enable operators to work both efficiently and comfortably. Cuts are placed using the guide laser and targets. With special clamps acting as hard stops as they hold the work material in place, the usable area on each sheet is maximized and, with minimal stops per sheet, allows an operator to run an entire sheet without stops.
The RubyLaser FLC includes powerful, user-friendly software to simplify machine operation and an automated, feather-touch pallet system eases both loading and unloading. In addition, handheld controls are provided to free the operator from the console.
Machine up-time is another critical consideration. With the cost of replacing a damaged cutting head running between $10,000 and $30,000 and lost production as the result of job-stops creating a hit to companies' bottom lines, the engineers at Automation Alternatives knew that these were problems that needed solutions.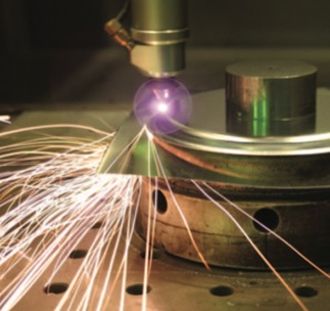 A range of features that virtually eliminate head crashes and that minimize job-stops have been incorporated into the RubyLaser FLC design. Automation Alternative engineers have included a cutting-head crash-plate that serves to protect both the head as well as the work material.
In addition, a smaller diameter nozzle tip requires less clearance between parts and a precision gap-sensor is able to consistently follow the surface of the work material. These and other innovative design features virtually eliminate the possibility of head crashes. Also, although a seemingly obvious design feature, an audible alarm will sound in the unlikely event of a job-stop.
Power levels are available from 150W all the way up to 4kW with unsurpassed energy efficiency and a laser life well upwards of 100,000 hours. Systems feature unparalleled precision, tolerances of +/- .001, and fast cycle times without sacrificing exceptional edge quality. Working platforms range from 2 x 2, 4 x 4 and 4 x 8 feet. In addition, vision systems are available that have been proven in over 90 installations and have been specifically configured by Automation Alternatives for both their cutting and welding systems.
Want more information? Click below.