Fiber Laser Tube Cutting System Ideal for Cutting Reflective Materials Like Brass, Copper, and Aluminum
BLM GROUP USA recently introduced its new LT8.10 fiber laser tube cutting system.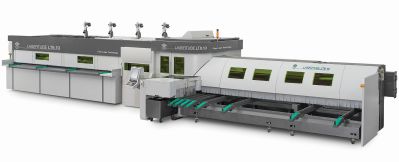 With its 3 kW fiber laser, the LT8.10 provides excellent flexibility for precise laser cutting on a variety of materials for tube diameters up to 9.5 in. (241 mm). The system is ideal for cutting highly reflective materials such as brass, copper and aluminum and can process round, square, rectangle, special shaped tube or bar and open profiles with ease.
BLM will be showcasing this new system at FabTech along with its series of highly efficient and productive tube bending machines: SMART, ELECT 102 and E-TURN 52 integrated with robotic load/unload demonstrating a fully automated production process.
SMART, the all-electric tube bending machine provides speed, precision,and reliability when processing tube with diameters up to 1 in. (28 mm). Its compact layout and integrated loading/unloading enable automated non-stop operation. The SMART is particularly well suited for bending complicated shapes and multiple radii tubes.
The ELECT 102, an all-electric tube bender brings advanced levels of accuracy and productivity to the bending of tubes up to 4 in. (102 mm) diameter. The machine can bend multiple radii using stack tooling for right-hand or left-hand bending. Up to eight tools can be fitted at the same time. Variable radius tools can be used in any position. The unit can handle difficult applications with little or no straight between bends or where tight radius bends are required.
E-TURN 52, the all-electric tube bender can bend a variety of tube configurations including round, square, rectangular, flat-sided, oval and elliptical. Tube can be automatically loaded, bent and unloaded all in one machine. The E-TURN 52 can bend tube up to 2 in. (50.8 mm) diameter and can automatically predict and calculate the behavior of the tube during the bending operation. This is particularly useful for processing high-strength materials or stainless steel with high spring-back to prevent the formation of unsightly marks caused by slippage at the end of the bend or early wear on the tools.
Want more information? Click below.
Copyright © 2019 by Nelson Publishing, Inc. All rights reserved. Reproduction Prohibited.
View our terms of use and
privacy policy
::m::