Deep Draw Hydraulic Press Features Two 6-Axis Robots for Loading/Unloading and Producing High-Pressure Tanks
Greenerd recently designed and manufactured a custom, complex double-moving platen deep draw hydraulic press, fully integrated with two 6-Axis FANUC robots that in addition to load/ unload, prompt the press to perform multiple operations required to produce a heavy-duty high pressure cylinder tank.
The horizontal four-post gib-guided press has a 750-ton cylinder main ram (adjustable down to 150 tons) with a 350-ton cushion (adjustable down to 70 tons). The platen size is 113" tall x 112" deep, length is 588" and overall machine height is 173" with a daylight maximum open distance of 180". The press weighs approximately 300,000 lbs. and is equipped with a powerful, compact control featuring simple user-friendly touch screen functions and set-up parameters.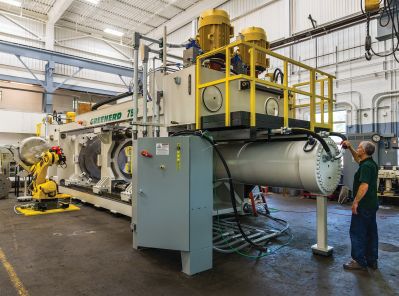 The deep draw hydraulic press has a 108" stroke capability and a 48" draw. Using a 350-ton cushion to clamp a blank between the main ram and the cushion platen, the main ram of 750 tons pushes the 100 lb./ 60" blank over a punch which is attached to the stationary platen and coins the part on the top before returning.
The double-moving platen design allows the press to draw the long part at one speed and tonnage, and while still moving, switch to another speed and tonnage to coin the part properly. To retrieve the newly drawn part out of the press, a FANUC robot moves in between the double platens, and when in position, instructs the press when and at what velocity to extract the part.
Greenerd's extensive hydraulic press capabilities include standard models along with custom designed presses to meet challenging application needs. Hydraulic presses are available in a variety of styles ranging from gap frame and straight-side to die-spotting and forging presses, with product capabilities from 3 tons up to 40,000 tons and bed sizes exceeding 240" (6,100mm). Press solutions are offered for fabricating in key market segments such as automotive, aerospace, appliance and HVAC.
Want more information? Click below.
Copyright © 2019 by Nelson Publishing, Inc. All rights reserved. Reproduction Prohibited.
View our terms of use and
privacy policy
::m::