Brand New Gear Hobbing Center with Groundbreaking Skiving Technology Can Finish Worm in Only 6 Seconds
Affolter Technologies is introducing the brand-new gear hobbing center Affolter AF110 plus. It is the most advanced machine offered by Affolter Technologies, the Swiss technology and market leader of small gear hobbing systems.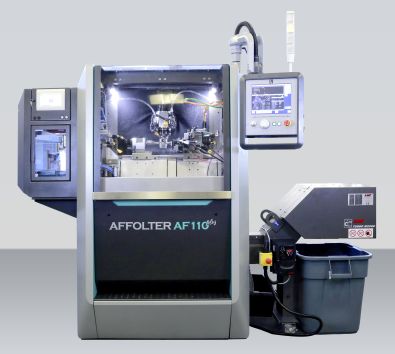 The new Affolter AF110 plus and the WSPS technology will open completely new opportunities for American customers.
The AF110 plus convinces with its versatility, precision, power, rigidity and ease of use. It has eight axes with a maximum DP17, minimal DP1270, and a spindle speed of up to 12,000rpm. Different automation systems for part loading and unloading are available, such as universal grippers, drum loader or robot loading as well as options such as deburring, dry cutting, centering microscope and oil mist aspiration.
Universal Applicability
The new loader system AF71 with two grippers ensures 24 hours automatic production. While a gear is in the hobbing process, the other gripper already reaches out for the next part to load. The AF110 plus can cut spur, helical, frontal, bevel, and crown gears. The machine is equipped with the in-house developed Affolter Leste CNC control, specifically designed for handling up to 12 axes. The newly designed worm screw power skiving (WSPS) technology is available as an option. The Affolter AF110 plus is fast, ergonomic and environmentally friendly.
"It is an innovative machine concept: Power, rigidity, and precision combined with universal applicability provide a means of manufacturing complex parts at the cutting edge of technology. From standard products to custom-made developments, it encompasses the full range of expertise in very stringent fields," explains Mikael Affolter, Head of Sales at Affolter Technologies.
WSPS for Optimized Productivity
Affolter Technologies recently introduced the innovative WSPS process. The idea behind it: Unlike in worm hobbing, where the hob turns much faster than the workpiece, the Affolter engineers inverted the process.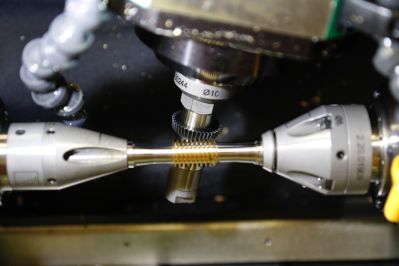 Boosting the productivity: Affolter's Worm Screw Power Skiving (WSPS) technology is four times faster than the traditional worm hobbing.
"The workpiece turns extremely fast, with two new spindles up to 12,000rpm, while the cutter turns much slower. Only technology advanced machines can reach such speeds and at the same time provide the necessary stiffness," says Managing Director Vincent Affolter.
Extremely Fast Process
The company sees a large demand for this WSPS technology in the automotive, aerospace and medical equipment industries. "WSPS allows us to finish a high-precision worm in only six seconds. If done by worm hobbing, every piece takes about 25 seconds," explains Mr. Affolter. In other words: WSPS reduces cycle time by up to four times. Manufacturers of high volume worms in these industries will greatly benefit from this new process. The WSPS technology focuses on small worms with a module up to 17 DP.
Want more information? Click below.