How Machine Tool Builders and End Users of All Sizes Can Benefit from Digitalization
Siemens digitalization portfolio offers increased speed and flexibility, better quality and efficiency, and improved security for the machine tool industry. The innovative portfolio includes an integrated end-to-end ecosystem comprising digital platforms and over 40 applications.
Siemens continues to be at the forefront of digitalization in the machine tool industry.
Digitalization will be the theme, once again, of this year's Siemens booth at EMO 2017. The Siemens tradeshow presentation will focus on the company's extensive, integrated, end-to-end digitalization portfolio. With this unique offering, Siemens will showcase ways in which machine tool builders can boost their production flexibility and efficiency significantly, drastically reduce their engineering input and time-to-market, as well as consolidate and expand their competitive standing in the global marketplace by digitalizing their operations.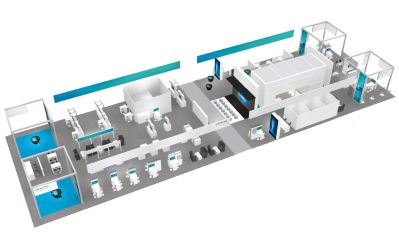 Under the theme "Digitalization in Machine Tool Manufacturing" at EMO, Siemens will demonstrate how machine tool builders and end-users can benefit from digitalization.
"Digitalization is set to fundamentally transform and advance the machine tool industry. By linking the digital and real worlds, we will be able to create new, significant possibilities to boost productivity and develop totally new business models. This applies to those who build and use CNC machines. It also applies to small- and medium-sized enterprises, as it does to the big players in the industry. Digitalization is the main driver of growth and profitability in the machine tool industry -- locally and worldwide," said Dr. Wolfgang Heuring, CEO of the Siemens Motion Control Business Unit.
Heuring continued: "Siemens is the world's leading and sole supplier of fully integrated software and hardware solutions for every phase of the value chain -- both in the construction and utilization of machine tools. By offering this broad spectrum, Siemens is laying the foundation for the digital penetration and restructuring of complete value chains in the machine tool industry."
Within the scope of its overarching "Digital Enterprise" concept, Siemens supplies an end-to-end portfolio for companies seeking to digitalize their operations. The Digital Enterprise Suite from Siemens comprises software-based systems and automation components which cover every conceivable requirement arising along the industrial value chain. Its backbone is formed by Teamcenter, the world's most widely used digital lifecycle management solution. During actual production, products such as the Manufacturing Operations Management (MOM), Simatic IT, Sinumerik CNC and the Simatic S7 PLC portfolio have been widely established and proven the world over.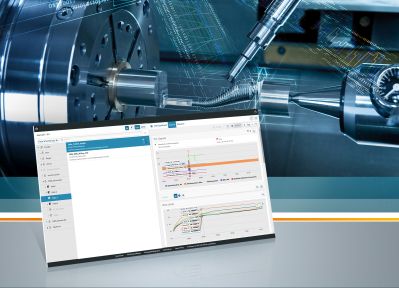 MindSphere -- the cloud-based machine tool data analytics platform from Siemens.
The digitalization portfolio for machine tool builders ranges from the machine concept and engineering, through to commissioning and servicing. For machine operators, the range of digitalization solutions covers their entire value chain from product engineering and production planning, to actual production and digital services. With its holistic approach, Siemens is the only company which is capable of designing the real process chain of the machine tool builder and the machine user -- identically in the virtual world (digital twin).
Many possibilities are created by digitalization through connection to the cloud-based, open IoT operating system MindSphere from Siemens. At EMO, Siemens will unveil its first MindSphere application for machine tools in the form of Manage MyMachines. Siemens will link approximately 200 CNC machines across the tradeshow up to the Cloud using its open IoT operating system MindSphere. Using Manage MyMachines, this will allow machine operators to have a cloud-based overview of important machine data and the current operating status of their machines. The resulting transparency allows users the chance to respond and optimize their production accordingly.
Also featured in the Siemens booth will be Sinumerik Edge, a new robust and high-performance hardware and software solution for machine-level application (edge computing). Sinumerik Edge processes and analyzes process data practically in real-time with the machining process. Decoupling the data processing tasks and process control ensures the necessary degree of process security, for which Siemens offers customized edge apps for functions such as monitoring and optimization. Machine tool builders and service providers can also integrate their own Edge apps into the open platform.
The comprehensive digitalization portfolio from Siemens enables increased speed and flexibility, better quality and efficiency, and improved security -- both in terms of machine functions and the customer's business model. In concrete terms, digitalization can unlock previously unavailable potential; therefore, continually improving a customer's productivity and competitive standing.
Want more information? Click below.