Combination Turning and Grinding Machine Enables Single Setup, Reduced Cycle Time
EMAG's VLC 200 GT turning and grinding machine uses diverse machining technologies to minimize cycle times for the hard machining of chucked components up to 200mm, providing options such as grinding, scroll-free turning and hard turning.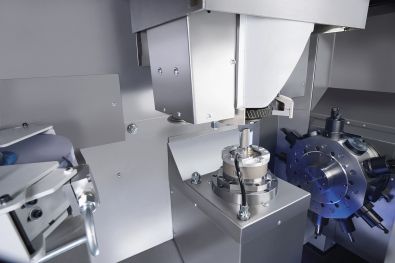 After the hard pre-turning, only a few micrometers of material are then left to be removed. That means that the subsequent grinding process, using either aluminum oxide or CBN grinding wheels, takes significantly less time.
According to the manufacturers, the machining quality also benefits from the combination of turning and grinding. When there is only a small amount of material remaining to be ground away after turning, the specifications for the grinding wheel can be based more precisely on the end quality required. As a result, surfaces with an average peak-to-valley height Rz of less than 1.6 micrometers can be reliably created with the machine.
Further installation options include internal and external grinding spindles, block tool holders, and a twelve-station tool turret. The machine also features a separate diamond-coated rotating dressing system, gap control monitoring, and an integrated measuring pin.
Want more information? Click below.
Copyright © 2019 by Nelson Publishing, Inc. All rights reserved. Reproduction Prohibited.
View our terms of use and
privacy policy
::m::