High-Performance Metalworking Fluid Ideal for Superior Surface Finish on Aluminum and Aerospace Alloys
QUAKERCOOL® 8013 is a high performance, heavy-duty synthetic metalworking fluid for use on aluminum and aerospace alloys. It is specially formulated for aluminum machining and provides superior surface finish in critical machining applications. QUAKERCOOL® 8013 can also be used on stainless steel and other alloy steels.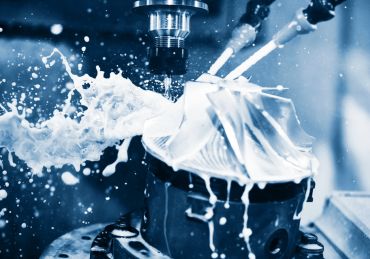 QUAKERCOOL® 8013 is highly fortified with water-soluble lubricity and EP additives making it capable of performing equal to heavy-duty soluble oils. It provides excellent cleanability, oil rejection, biostability and is very low foaming even in R/O water.
Titration
Good control of coolant concentration is important to maintain optimum metalworking performance, as well as to ensure the chemical and biological stability of your fluids. Proper concentration also helps keep your total operating cost -- including tooling and chemicals -- at a minimum.
The best method for checking the concentration of QUAKERCOOL® 8013 is to titrate using a pH meter and a dilute acid as follows:
Collect a sample of the QUAKERCOOL® 8013 working solution from your machine or coolant system while the fluid is being circulated. Avoid collecting tramp oils or taking samples from a stagnant area
Carefully measure 25ml of this fluid into a clean 250ml beaker, and add 75ml of distilled or deionized water
Slowly and carefully titrate this mixture, while continuously stirring, to a pH of 4.6 using 0.5N Hydrochloric acid (HCl)
Record the ml of acid used and multiply by a factor of 1.25. Record this number as the concentration of your system.
If you do not have titration equipment or are unfamiliar with the methods, a Quaker representative can provide detailed instructions and a list of suggested equipment.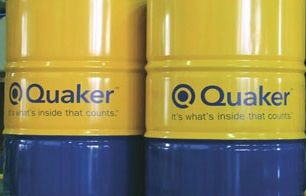 In situations where titration is not feasible, you can use a refractometer to get a good approximation of coolant concentration.
Once you have obtained the refractometer reading for your system you can use the Concentration by Refractive Index chart to determine approximate concentration.
Quick and easy refractometers can be used to measure and verify concentration for a freshly charged system. Long term, refractometers are not recommended to measure concentration or manage your system. As systems age, more and more process variables contribute to increase inaccuracy. Water hardness, solution temperatures, tramp oil level, product chemistry, and various operations have been known to affect results.
QUAKERCOOL® 8013 has a shelf life of 6 months.
Want more information? Click below.