See It Before You Machine It: Multi-Task Machining CNC Software Designed Specifically for MTM Tools
GibbsCAM MTM (Multi-Task Machining) was specifically designed to address the CNC programming requirements of multi-task machine tools, providing powerful programming tools that are easy to learn and use with the ultimate in flexibility and configurability.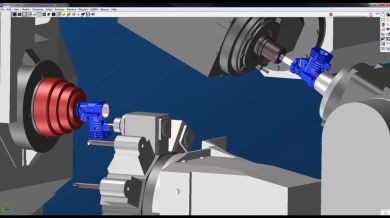 Machining processes are easily defined with GibbsCAM's intuitive graphical user interface that provides seamless access to both turning and milling capabilities. And GibbsCAM's associativity allows operations to be updated easily when modifications are made. Factory-supplied post processors output multi-flow NC code complete with utility operations and sync codes.
With GibbsCAM MTM, your machine tool's specific configuration is captured by GibbsCAM's factory-supplied settings so that you are accurately programming all its capabilities. This way you can be sure that you are taking full advantage of your machine tool for maximum productivity.
A two spindle, two turret configuration is fairly common with machines with more than two spindles or turrets becoming more and more common. GibbsCAM MTM supports an unlimited number of turrets and spindles allowing you to keep pace with advances in multi-task machines.
Live Tooling Support
Multi-task machine tools used to be mainly high-end turning centers with two spindles and tool holders, sometimes including a light-use live tooling capability. Though these are still common, multi-task machine tools now incorporate more substantial live tooling support which allows more extensive milling operations to be performed. GibbsCAM MTM can be combined with any of the GibbsCAM milling options to support your multi-task machine tool's complete range of milling operations.
Swiss-Style Machine Tools
Like other types of multi-task tools, Swiss-style machine tools have also gone through a radical evolution and represent some of the most complex MTM configurations available. GibbsCAM MTM supports Swiss-style multi-task machine tools and provides an easy-to-use tool for programming these complex devices.
Bar Feeders. Parts Catchers. Sub-Spindles. These are just a few of the ancillary devices on a multi-task machine tool that require non-cutting utility operations to control. GibbsCAM MTM supports the entire range of utility operations used by your machine tool providing you with full control all the way to posted output.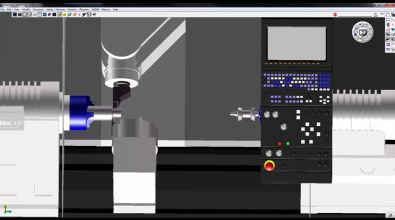 Sync Manager
Unlike single cutting tool machine tools, multi-task machine tools apply multiple tools across one or more spindles at the same time often in a synchronized fashion. Manually coordinating multiple process flows requires understanding many details and interdependencies. GibbsCAM MTM's Sync Manager provides an easy to understand, intuitive graphical interface allowing you to focus on optimizing your process. The Sync Manager handles all the underlying complexities for you. Programming multiple processes has never been easier or more efficient.
Integrated Cut Part Rendering
With the complexity of multi-flow multi-task processes it is extremely important to verify programs before they can become expensive mistakes on your machine tools. GibbsCAM MTM's integrated Cut Part Rendering allows you to visually verify your programs fully simulating multiple tools cutting at the same time. Not only can gouges be detected, but you can also observe how efficient your program is allowing you to make adjustments further optimizing your program.
Want more information? Click below.