Solid-Carbide End Mills Create Small Chips While Boosting Removal Rates Up to 30%
Seco Tools recently released two new solid-carbide end mills that significantly boost metal removal rates and offer exceptionally long tool life for a variety of today's challenging workpiece materials.
The Jabro®-HFM JHF181 is an excellent choice for high-feed milling strategies in hardened steels and nickel-based alloys, while the Jabro® -Solid² JS564 and JS565 represent Seco's continued focus on developing tools for optimized roughing strategies for materials such as steels, stainless steels and titanium alloys.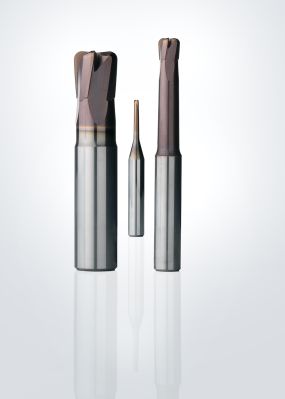 As the latest member in the Seco high-feed family, the new Jabro-HFM JHF181 offers the same performance as other Seco high-feed tooling solutions as well as increases metal removal rates by up to 30 percent over traditional methods. The JHF181 is especially effective at machining complex parts that require long tool overhangs and a mix of multiple axial and radial machining operations. It also provides up to 30 percent more tool life than other comparable solid-carbide end mills when processing ISO H materials. With Seco's new HXT coating, the JHF181 gains a hard layer that delivers advanced thermal protection and high wear resistance.
The JHF181 is available in 2-, 4- or 5-flute options with cutting diameters from 0.0787" (2 mm) to 0.6299" (16 mm) and length options ranging from 2xD to 7xD. This end mill also has through-tool coolant capability for diameters from 0.2362" (6 mm) to 0.4724" (12mm).
Designed for optimized roughing strategies, the new Jabro-Solid²JS564 and JS565 offer 20 percent longer tool life than their predecessors due to stable tapered cores, polished NXT coatings and other high-performance features. The JS564 and JS565 provide a relatively high radial engagement while maintaining high feeds and speeds for optimized roughing passes. Furthermore, the positive frontal teeth geometries on these two end mills make them successful in axial and helical interpolation operations.
New, optimized chip splitter options on the end mills create small chips when using long cutting lengths, ensuring the best possible chip evacuation. This proves especially beneficial when machining deep pockets and reduces operational risks, such as tool breakage and workpiece scrap.
The JS564 and JS565 are available in 4- and 5-flute designs in a broad range of cutting diameters and lengths. The JS565 is also available without chip splitters. For both the JS564 and JS565, cylindrical shank diameters are available from 0.1181" (3 mm) to 0.7874" (20 mm), and Weldon shank diameters are available from 0.2362" (6 mm) to 0.7874" (20 mm).
Want more information? Click below.