Cutting Data App Provides Real-Time Settings for Boring Tools
BIG KAISER has developed a smartphone and tablet app to enhance the user-experience when assembling and running boring tools while providing extremely precise cutting data.
This app will also help operators fine-tune the optimal cutting parameters for their tool assemblies. They can save their tool adjustment history in the app for future reference; this is an essential piece of the puzzle for shops joining the smart manufacturing movement.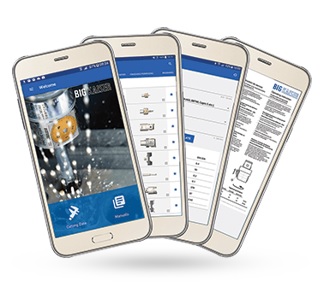 Fifty BIG KAISER boring heads, covering diameters from .016" up to 24.41", are currently supported by this app. Cutting data for roughing and finishing tools is available in both inch and metric units.
Using the app is child's play: Choose your tool, enter your application values, calculate your cutting data, input it into your control, make a measuring bore, adjust the tool, and bore away.
"Today, machining is just as much about controlling processes as the actual tools themselves. Manufacturing needs accurate, real-time and mobile information management and this new app delivers just that," says Chris Kaiser, CEO at BIG KAISER. "We are very excited by the app's crisp visual appearance, ease of use and the extremely precise cutting data that it will provide to our customers -- everything at their fingertips for improved productivity and control."
The key benefit that this app brings the user is that machine and tool data, parameters and settings are always available and can be monitored remotely in real-time. Comprehensive information is displayed on a large legible screen, providing greater comfort than the existing on-machine interface. More precise information should lead to improved decision-making, thereby contributing to the bottom line.
The app is available now for free download from the App Store and Google Play by searching "BIG KAISER Boring App."
Want more information? Click below.