New Lightweight Subframe Developed to Reduce Vehicle Weight and Increase Fuel Efficiency
A prototype carbon fiber composite subframe developed by Magna International and Ford Motor Co. reduces mass by 34% compared to making a stamped steel equivalent.
The project is the latest in a series by carmakers and their material suppliers to lower vehicle weight to reduce emissions and improve fuel efficiency.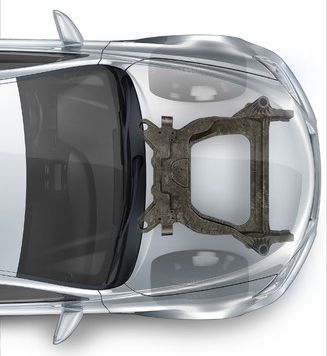 By replacing 45 steel parts with two molded and four metallic parts, the prototype subframe achieves a dramatic 87 percent reduction in the number of parts. The moldings are joined by adhesive bonding and structural rivets.
The carbon fiber subframe is the result of a research and development project between Magna and Ford to investigate the potential mass-reduction benefits and technical challenges of using carbon fiber-reinforced composites in chassis applications. The subframe is a key part of a vehicle's structure, typically providing a place to attach the engine and wheels while also contributing rigidity and crash management.
"We are able to take a clean-sheet approach with design, materials, and processing, collaborate with the customer and within our product groups, and deliver a solution with the potential to really move the needle in terms of aggressive lightweighting without sacrificing styling or performance," says Grahame Burrow, president of Magna Exteriors.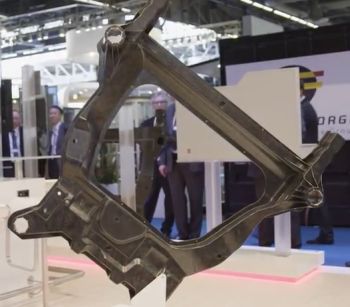 Magna's engineering team -- a collaborative effort between the company's body-and-chassis and exteriors product groups -- combined its unique, full-vehicle knowledge on the design, materials, and processing to address the challenge of reducing weight using composite materials and manufacturing processes.
The design has passed all performance requirements based on computer-aided engineering (CAE) analyses. The prototype subframes are now being produced by Magna for component and vehicle-level testing at Ford.
"Collaboration is the key to success in designing lightweight components that can give our customers fuel-economy improvements without compromising ride and handling, durability, or safety," says Mike Whitens, director of Vehicle Enterprise Systems within Ford Research and Advanced Engineering. "We must continue to work hard to achieve these lightweight solutions at the most affordable costs. Magna and Ford working together on this carbon fiber composite subframe is a great example of collaboration on advanced materials."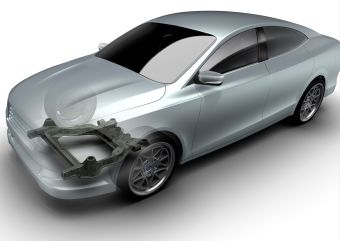 The testing phase will evaluate corrosion, stone chipping, and bolt load retention, which aren't currently measured by CAE. The project team will also develop a recommended design, manufacturing, and assembly process with the experience gained during the prototype build and subsequent testing.
"We've been a pioneer in the use of lightweight materials for many years now," says Burrow. "First we launched the CF [carbon fiber] hood for the Cadillac CTS/ATS-V series, followed by a carbon fiber grille opening reinforcement for the Mustang Shelby Cobra GT500. Applying our expertise now to a structural component like the subframe is another step forward as we continue to help our OEM partners meet their goals."
Want more information? Click below.