New Lathe's 8 CNC Spindles Ideal for High-Volume Precision Work in Automotive, Fastener, Connector, and Aerospace Industries
INDEX has developed a new generation of its multi-spindle automatic lathe series, this time with 8 CNC spindles, two back-working spindles for rear-end machining, deploying up to 18 CNC slides (X and Z) and additional Y axes if required.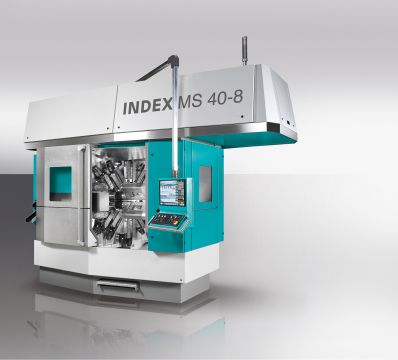 The new MS40-8 handles bar stock through a new bar loader, the INDEX MBL40-8, or chuck parts. The 110 mm chuck allows machining of pre-formed, forged or extruded parts of up to 80 mm. For simple parts, the machine can be used as a double 4-spindle machine, reducing cycle times in half.
The heart of the INDEX MS40C-8 multi-spindle automatic lathe is the compact spindle drum with eight fluid-cooled motorized spindles with synchronized technology (max 7,000 rpm, 24 kW, 57 Nm). They are characterized by infinitely variable speed control, high torque, low size and no maintenance requirements.
With the increased number of main spindles and tool carriers, the MS40C-8 is able to completely machine even very complex parts in one operation. Up to two pivoting synchronized spindles are each able to work on up to seven rear end machining tools: four of them can be live. A new feature is that two rear end machining tools can work simultaneously on the workpiece.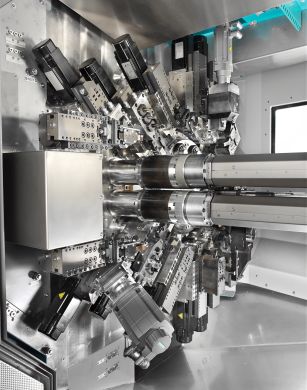 A significant highlight of the MS40C-8 is its versatile economic usability, including for simple workpieces. For example, if components need to be cut with only a small number of tools, it can be used as a highly productive double four-spindle machine. If the user makes this choice, he has practically two four-spindle machines available of which each provides a synchronized spindle for rear end machining. Each cycle finally outputs two finish-machined components from the machine.
A large number of stationary and live tools are available for front and rear-end machining. The INDEX MSLine front-open machine concept -- without longitudinal slide block -- and the V-shaped arrangement of the tool carriers on the work spindles ensure that the optimal machining sequence alone determines the machining method. For example, external and internal machining operations using stationary or live tools can be carried out in every station.
Want more information? Click below.