Self-Sharpening Flap Disc Maintains High Removal Rate at Low Cost
Walter Surface Technologies has launched FLEXSTEEL™, a high-performing general purpose flap disc designed for use on steel in light industrial, metal fabrication and construction applications. FLEXSTEEL™ is the newest addition to Walter's ENDURO-FLEX™ family of flap discs.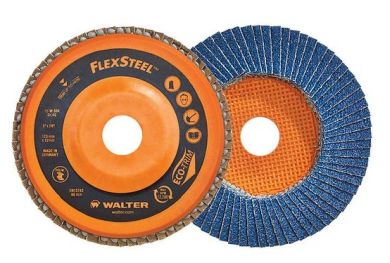 FLEXSTEEL™ features a specially engineered zirconia alumina abrasive grain blend that self-sharpens with less pressure, allowing it to maintain a high removal rate on any power tool, including value models with less torque. FLEXSTEEL™ provides an economical solution for workers who need a quality, industrial grade flap disc to get the job done.
"For high-powered grinders, Walter's ENDURO-FLEX™ series already provides the most productive line of flap discs, which feature the longest service life and highest removal rate in the industry," explained Amadou Sylla, Associate Product Manager at Walter Surface Technologies. "To help manufacturers gain a competitive edge in general MRO environments or construction, without compromising on safety or performance, we developed a premium-grade flap disc that is ideally suited for the general purpose grinding that is so prevalent."
The discs offer a high removal rate and good life on steel. They offer an economical choice for blending sharp corners, heavy deburring or blending in fillet welds. In addition, they can withstand lateral pressure to remove material from corners and edges -- all of which would normally cause premature wear on the standard abrasive cloth typically found on flap discs in this category.
"FLEXSTEEL™ will benefit a vast market that is currently underserved with existing, under-performing products," adds Sylla. "The flap disc took three years to develop and has undergone extensive field testing to ensure the customer would be getting the best possible product in its class."
Want more information? Click below.
Copyright © 2018 by Nelson Publishing, Inc. All rights reserved. Reproduction Prohibited.
View our terms of use and
privacy policy
::m::