New 90° Skiving Head Provides Angled Drilling and Milling While Cutting Gear Patterns Fast
EXSYS Tool's new 90-degree Skiving Drilling and Milling Head not only provides angled drilling and milling capabilities on turning centers, but also enables the machines to perform gear skiving operations. The new head cuts gear patterns faster than conventional gear shaping or broaching methods and generates both internal and external gears with helical profiles as well as gears close to part shoulders without interference.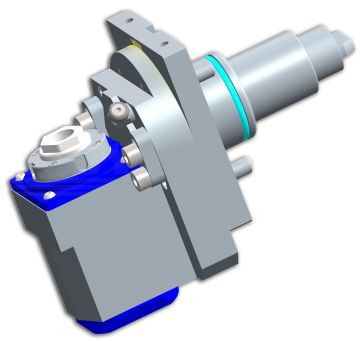 With conventional live tooling, cutting tools on turning centers can machine parts only from a horizontal position. Thus, the gear skiving operation would require either a dedicated gear skiving machine or a full 5-axis milling and turning machine. EXSYS's innovative drilling and milling head enables plants and shops to achieve the angled positions necessary for gear skiving and for the creation of integral splines.
The new drilling and milling head operates at spindle speeds of 3,000 rpm and delivers a torque output of 40 Nm. It is also compatible with external coolant supplies.
On the Skiving Drilling and Milling Head, set screws adjust head position 45 degrees up or down for the system's full 90-degree range of motion. An operator loosens the set screws, manually sets the position of the head and tightens the screws.
The adjustable head is a stand-alone tooling solution and is also PRECI-FLEX® ready. The PRECI-FLEX modular tooling system offers fast, accurate turning machine turret tooling changeovers. The system features a single-base holder and multiple tooling adapters that bring endless possibilities to shops and plants in search of an easy way to boost productivity.
While the short, compact design of the PRECI-FLEX ensures maximum torque transmission and rigidity, its conical and flat-face planar interface provides high levels of accuracy and rigidity when using an adapter or a standard ER collet. The interface also makes it easy to mount collets, end mill holders, expanding collet chucks and shrink-fit tooling to the single-base holder.
Want more information? Click below.
Copyright © 2018 by Nelson Publishing, Inc. All rights reserved. Reproduction Prohibited.
View our terms of use and
privacy policy
::m::