Ford Investing $1.2 Billion in 3 Michigan Facilities: More High-Tech Vehicles and More U.S. Jobs
Ford Motor Company is investing $1.2 billion in three Michigan manufacturing facilities to strengthen its leadership in trucks and SUVs and support the company's expansion to an auto and mobility company.
Ford is investing $850 million in Michigan Assembly Plant to retool the plant to build the all-new Ford Ranger and Ford Bronco. Employees at Michigan Assembly Plant will begin building Ranger at the end of 2018 and Bronco in 2020.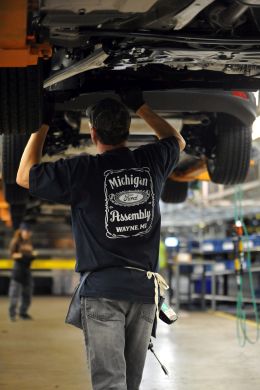 The company also plans to create or retain 130 jobs and invest $150 million to expand capacity for engine components for several vehicles, including Ranger and Bronco, at Romeo Engine Plant in Michigan.
In addition, Ford is investing $200 million for an advanced data center to support the company's expansion to an auto and a mobility company. It is the second of two new data centers Ford is building in Michigan, as the company expects its data usage to increase 1,000 percent -- driven by manufacturing and business needs and new mobility services, such as more connected, autonomous and electrified vehicles.
The second new data center will be located at Ford's Flat Rock Assembly Plant, where the company is investing $700 million and adding 700 direct new jobs -- announced in January -- to create a factory capable of producing high-tech electrified and autonomous vehicles.
"At Ford, we are investing aggressively in building on our strengths today -- including trucks, vans, commercial vehicles, performance vehicles and SUVs -- while at the same time growing our leadership in electrification, autonomy and mobility services," said Joe Hinrichs, Ford president, The Americas. "As America's top producer of automobiles, we are proud to be going even further in our commitment to invest in manufacturing here at home."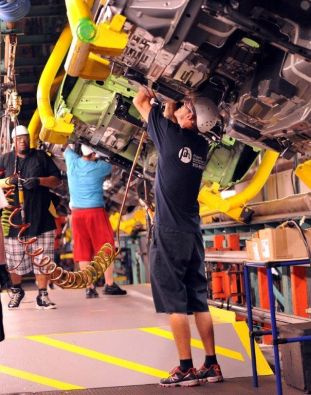 The company's investments are supported by Ford's strong partnership with the UAW, as well as with federal, state, county and local governments.
"UAW-Ford is proud of the total investments in three of our Southeast Michigan assembly and engine plants, which will lead to stronger job security for our members and continued support for the surrounding communities," said UAW-Ford Vice President Jimmy Settles.
In the past three months alone, Ford has announced $1.9 billion in new investments in Michigan. During the past five years, Ford has invested $12 billion in its U.S. plants and created a total of nearly 28,000 U.S. jobs.
Ford builds more vehicles in the United States and employs more hourly U.S. workers than any other automaker.
Want more information? Click below.