7-Axis Capability and Force Torque Sensors Among 20 New Partner Solutions for Universal Robots
Danish cobot manufacturer Universal Robots is showcasing more than 20 new products from 14 different developers at Automate 2017 this week in Chicago.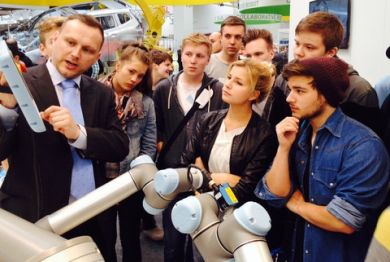 Universal Robots is exhibiting a wide range of new partner solutions certified to work flawlessly with UR robots at Automate this week.
The UR+ platform is a new online showroom that takes the trial and error process out of creating a robot application by providing access to products verified to work optimally with UR robots. From grippers to software, sensors, vision cameras, and accessories, Universal Robots+ not only enables end users to hit the ground running when integrating UR robots, it's also an un-paralleled collaboration between Universal Robots and the flourishing developer ecosystem.
"What really differentiates us is our focus on growing this network of technology partners to ensure fast and easy deployment of our robot arms. We're hoping to grow the platform to feature around 100 UR+ solutions by the end of 2017," said CTO and co-founder of Universal Robots, Esben Østergaard.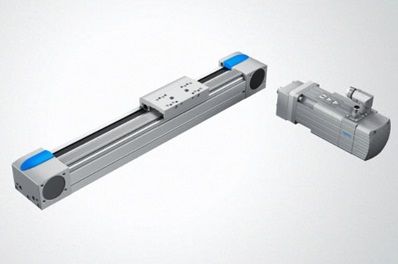 Electric linear axis EGC: Dynamic and fast with improved rigidity -- as a toothed belt drive, spindle drive or guide axis.
One of the partners currently in the UR+ process is FESTO. At Universal Robots' Automate booth, the company is showing a new reliable and cost-effective solution for extending the reach of UR 6-axis robots through a horizontal or vertical 7th axis.
This new solution is based on the FESTO electric linear-axis EGC-HD and CMMP-M3 servo-drive with the company's advanced safety module. The servo-controlled actuators have been seamlessly integrated within UR's programming environment and are compatible with the full range of UR robots.
"This new solution will enable UR customers to bring 7-axis systems to market faster and with less design overhead," said Mike DeMange, Business Development Specialist with FESTO. "The partners examined customer needs as well as competitive offerings, and developed an effective and versatile 7-axis system, a solution designed for easy integration without having to learn multiple software platforms."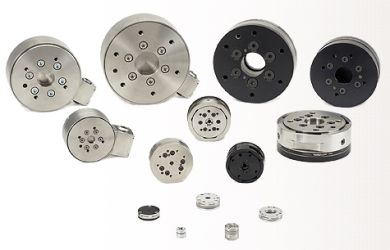 The ATI Multi-Axis Force/Torque Sensor system measures all six components of force and torque.
Automate is also the launch pad for the new low-cost, multi-axis force torque sensor Axia80 that is debuting at the UR booth embedded with a UR5 robot. Featuring an interactive booth demo, attendees are able to move a work piece and force the cobot to adjust its path while it maintains a constant force. Unlike load cells, which only operate on a single axis and measure only push, the Axia80 senses torque and side loads along all six axes.
"It's similar to a handshake," said CEO of ATI, Robert Little. "The force/torque sensor measures the touch and feel and gives life to robots. It's a feedback mechanism. For factories wanting to get deeper into automation, their cobots can use these sensors to do more of what those human laborers accomplish in terms of dexterity and efficiency. Universal Robots' UR+ platform allows ATI to fully integrate our force/torque sensors with their robots, making it very simple for customers to program force-guided applications."
Want more information? Click below.