Austrian Manufacturer's Productivity Up 4x Thanks to Fully Integrated Band Saw With Part-Sorting Robot
A recently installed fully automatic KASTOtec FC 4 band saw has led to an enormous increase in productivity for a machine tool supplier in Austria. Not only is the saw designed for use with carbide blades, KASTO has equipped it with a robot-assisted system for sorting cut-off parts.
Southern Austria is mainly renowned for its natural scenery. Sunny meadows and gently rolling hills attract hikers and bicyclists in summer. In winter, a number of skiing areas offer perfect conditions for winter sports enthusiasts. It thus comes as a surprise to discover that highly specialized machine tool components are being manufactured at a location in this region, between Graz and Klagenfurt. This is where an Austrian family-owned company operates the largest of its production plants.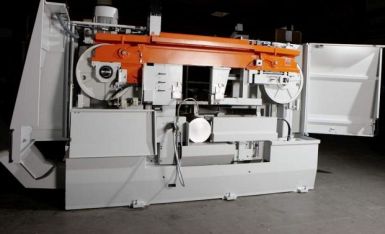 KASTO Performance Cutting (KPC) is an equipment variant for quieter operation and improved cutting performance.
The company develops, manufactures and sells solutions for managing torsional vibrations in large diesel and gas engines. Its product range includes torsionally and resiliently flexible couplings and torsional vibration dampers made of steel and composite fiber materials. They are used in ship propulsion systems, power plant generators, bulldozers and rail locomotives, to give a few examples.
Parallel Use of Different Sawing Methods
One of the first production areas is the sawing unit. Round and flat steel stock, mostly tempered steel supplied as bar material, is cut to precise lengths.
The high-grade materials are very hard to cut. Since December 2014, a KASTOtec FC 4 automatic band sawing machine made by the sawing and storage technology specialist KASTO has been in operation there. The saws in use before that time were unable to meet the increasing demands on cutting performance. The company therefore decided to purchase a new saw that easily meets the more exacting requirements.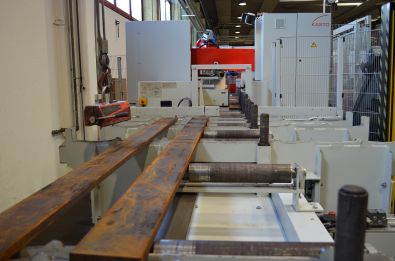 A magazine with space for four bars with a length of up to 3,500 millimetres supplies the saw with material.
Higher Sawing Efficiency by KASTO Performance Cutting
The KASTOtec FC 4, KASTO offers a solution which is perfect for jobs of this kind. With its cutting range of 430 millimeters and smallest cutting dimension of 10 x 10 millimeters, it can efficiently handle materials of different diameters.
Moreover, the added feature KASTO Performance Cutting (KPC) makes the saw suitable for using carbide saw blades. "KPC includes a number of measures to improve the guidance of the saw blade, to prevent vibration and to optimize damping of the sawing tool," explains Sönke Krebber, head of strategic predevelopment at KASTO. "For example, vibration is effectively damped by a pair of spring-loaded guides on the return blade, ensuring quieter operation."
Before opting for this solution, the Austrian company's managers paid a visit to KASTO in Achern-Gamshurst, Germany, and were impressed by the new technology. They also appreciated the professional treatment they received.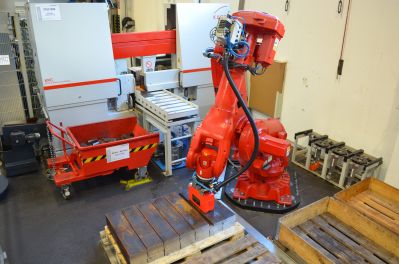 A robot places the cut sections on one of four pallets.
The company not only decided to buy a new saw, it also purchased a robot-assisted sorting system for cut-off parts in order to automate the monotonous and time-consuming task of removing and stacking. KASTO solved this problem by supplying an ABB industrial robot with interchangeable magnetic grippers for picking up parts and depositing them at one of four pallet locations.
Integrated Flow of Information and Materials
The saw is supplied by a magazine that can hold four bars with a length of up to 3,500 mm. This allows production to run fully unattended even for long periods. The KASTOtec receives data on orders and dimensions from the manufacturing execution system (MES), which is linked to the saw via a custom interface. In this way,it is ideally connected with all upstream and downstream production processes -- an important step towards implementing Industry 4.0. As a result, the production process is considerably more transparent.
The EasyControl sawing machine controller ensures simple and intuitive operation of the KASTOtec. A clearly structured graphical interface quickly guides the operator to the required functions. The link to the MES allows many processes, such as switching between orders, to take place fully automatically. This makes work easier and ensures greater safety.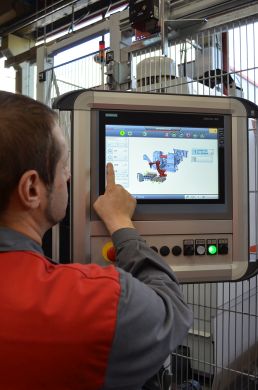 The EasyControl sawing machine controller ensures simple and intuitive operation of the KASTOtec.
If a process does not run in the usual correct manner, KASTO sawing specialists and robot programmers work together at one location and are ready to help. They can obtain remote access to the system at any time and rectify any problem in short order.
Productivity Boosted By a Factor of Three to Four
For the user, the KASTO solution has become indispensable. The carbide sawing system has boosted productivity to three to four times the previous level. Tooling times and cycle times are low in spite of the company's need for some 1,000 different lengths and cross sections to manufacture its many products -- due to automation and connectivity of the sawing machine.
The robot-assisted sorting of cut-off parts has proved so successful that the company plans to use the new technology for an additional saw. KASTO's efficient combination of sawing machinery and automatic storage technology made an especially big impression. The user sees this as an excellent model for later growth.
The user is convinced to have found the right partner for the future. "The KASTOtec provides us with the capacity we need to meet the challenges of the years ahead," explains a company representative. "And we saw from the very start that KASTO puts a big emphasis on quality and long service life," he adds with a smile, pointing to a hacksaw next to him. It too comes from KASTO -- and has been doing its job perfectly since the 1980's.
Want more information? Click below.