New 6-Axis Collaborative Robots Emphasize Safety
Stäubli will unveil the full capacity of its new TX2 series of collaborative robots to the North American market at Automate next month. "With pioneering new safety features, the TX2 line offers the world's fastest safe robots," says Roger Varin, CEO, Stäubli North America.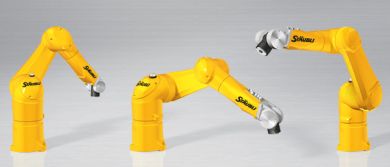 TX2 robots: the next generation of fast and precise 6-axis robots.
The new six-axis machines excel in every facet of automation, including high-volume manufacturing, Industry 4.0 applications and man-robot collaboration under all production conditions, illustrating the ability to produce a batch of one. At Automate, Stäubli Robotics will simulate a highly realistic Smart Factory in which different TX2 models in multiple interlinked cells will prove their Industry 4.0 compatibility, as well as their collaborative skills.
The new TX2 line is offered in six model series -- TX2-40, TX2-60, TX2-60L, TX2-90, TX2-90L and TX2-90XL -- and are capable of handling loads between two and up to 15 kilos with a reach between 515 and 1,450 millimeters. With the launch of the TX2 series and CS9 safety control, Stäubli has opened a new chapter in man-robot collaboration. The six-axis robots have a separate safe digital encoder for each axis and an integrated safety board. All safety features comply with the stringent requirements of the highest safety category, SIL3/PLe.
To ensure maximum safety, every movement of the robot is monitored by sensors. In addition, all the coordinates of the robot as well as its speed and acceleration are recorded in real time. For the TX2 series, Stäubli has opted for configurable, safe I/O modules as well as real-time Ethernet field bus systems that guarantee maximum safety and compatibility.
Stäubli North America's Robotics Division Manager Sebastien Schmitt says the company opted to use standard models for man-robot collaboration and has dispensed with the construction of typical assistant robots, which limit performance.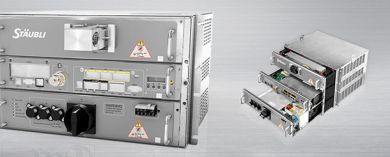 This innovative CS9 robot controller sets new standards in safety which protects production, equipment and people.
On the mechanical side, Stäubli has incorporated proven technology for sensitive environments. Like their predecessors, the new six-axis models have an enclosed structure certified to protection class IP65 and IP67, which means they are waterproof. The TX2 series is thus ideal for use where stringent cleanroom and hygiene conditions are in force and for applications in harsh environments. Stäubli's understanding of this is demonstrated by a six-axis machine equipped to Humid Environment (HE) standard, which makes them ideal for use wherever high humidity, water spray or liquid coolants are prevalent.
"The TX2 series represents a new dimension in terms of quality, precision, speed, dynamics and safety," says Schmitt. "In addition, the robots are Industry 4.0 compatible, and in terms of control technology, they can be optimally adapted to all kinds of user environments. With their superior overall performance, these six-axis machines will protect, people, production and investments in all types of conventional or collaborative applications."
Want more information? Click below.