Report Assesses the Expected Impact of President Trump's Policies on U.S. Manufacturing
MFG.com has released its latest report titled "How Will President Trump's Policies Affect U.S. Manufacturing?"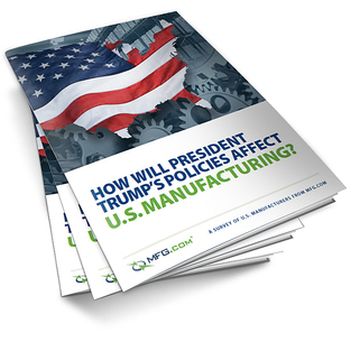 Based on a survey of both Buyers (original equipment manufacturers) and Suppliers (small to midsize manufacturers) in the MFG.com marketplace, the report gauges the expected impact of President Donald Trump's proposed policies on U.S. manufacturing and foreign trade, as well as their individual businesses.
According to the report, there is broad-based support for the trade, job and immigration policies the president-elect has proposed. While there is some skepticism from those who invest in offshore sourcing, both Buyers and Suppliers agreed that these new policy directions will have positive impacts for U.S. manufacturing.
In addition, when it comes to U.S. manufacturing's relationship with China there is considerable support for labeling China a currency manipulator and for leveling tariffs on Chinese products. While Buyers are resistant to higher tariffs (30 to 45 percent, as stated by the President), both Buyer and Supplier groups voiced support for them even at the risk of potentially higher costs for consumer products and industrial inputs.
Bo Hagler, chief executive officer of MFG.com, said, "With plans to renegotiate the North American Free Trade Agreement (NAFTA), withdraw from the Trans-Pacific Partnership (TPP) and implement major tariff and tax law changes, it is crucial to understand the possible impacts facing the manufacturing industry. Having so many manufacturing marketplace members gives us access to wide-ranging individuals and a unique portal to their insights, areas of concern and sources of optimism. With this information, we hope to prepare the nation and the manufacturing industry for what is to come and better align ourselves for a more successful future."
To download the report, click below.
Copyright © 2019 by Nelson Publishing, Inc. All rights reserved. Reproduction Prohibited.
View our terms of use and
privacy policy
::m::