New Decoring Cut Tooling Drills Composites and Removes Cores in Single Timesaving Step
Controx-Neuhauser introduces their Decoring Cut tooling, which both drills through honeycomb composite panels and undercuts the skins (thus removing the cores) in a single labor-saving step.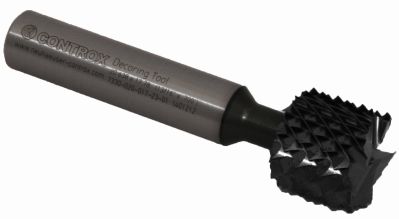 A sophisticated end tooth design enables Decoring Cut to cut through the top skin while maintaining tight tolerances with no delamination. After the plunging operation, the tool interpolates to undercut the skins as deep as requested by aerospace industry norms. A very aggressive diamond shaped tooth design guarantees the removal and pulverization of the material without the typical "push back" of typical tooth designs. This saves the time required for manual core removal, tool change-out time, and machining time, a significant time and cost savings, while reducing the risk of defects for manual operations.
Available in Solid Carbide or HSS Cobalt Powdered Metal, Controx-Neuhäuser stocks the Decoring Cut in all industry-standard insert diameters, and in lengths so that standard ¼", ½" and ¾" panel sizes can be accomplished in one pass. The next smaller tool can be chosen if the panel width is different. All Decoring Cut tools have a PVD multi-layer coating to enhance performance and service life.
Unlike competitive coring technology, which requires a two-step process to cut through the upper skin and honeycomb section and interpolate to create a hole in the correct insert size, then remove the panel from the machine table and manually perform the undercut, the Decoring Cut is accomplished in a single set-up.
In addition to the high labor costs for this honeycomb removal procedure there is also an increased risk of skin defects since the precision cutting tool guidance depends on the skills of the operator. The "all in one" Decoring Cut eliminates the manual working step along with the high labor costs and the risk of defects, and reduces the high-value machining time on CNC machines.
Want more information? Click below.
Copyright © 2019 by Nelson Publishing, Inc. All rights reserved. Reproduction Prohibited.
View our terms of use and
privacy policy
::m::