Halliburton Taps into Tooling Solution That Reduces Thread Milling Process from 116 Minutes to Just 6 Minutes
They say small changes can make a big difference. And that is definitely the case for oil and gas player Halliburton at its Singapore plant. The energy company has made significant time and cost savings in its manufacture of vital components, thanks to a tapping solution from Sandvik Coromant.
Halliburton's Singapore operation makes hundreds of different components each year for the oil and gas industry. Many of these parts are made using Inconel 718, a very expensive but high-strength, corrosion-resistant nickel chromium material that can be used at very high and very low temperatures. Many of Halliburton's components need to be threaded so they can be connected to other parts.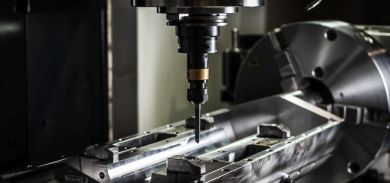 Inconel 718 is a difficult and expensive material to work with, but technical specialists at Sandvik Coromant were confident that they could solve Halliburton's challenge.
The challenge that Halliburton faced was very high cycle times for production threads with thread milling process, slowing down the production times. The company had looked previously at ways to speed up the threading process at its UK plant but with disappointing results. So it took the opportunity of a slow down in the oil and gas industry to revisit this process.
It was a challenge taken up eagerly by Sandvik Coromant, which has a close working relationship with Halliburton in Singapore. Part of Sandvik Coromant's Singapore operations is its Productivity Center where it carries out training and provides machining strategies, customer trials and demonstrations. It was at this center that they carried out comprehensive tests of its threading solutions (tapping) on the Inconel 718 material. By taking on this rigorous testing within the Productivity Center, it meant Halliburton didn't need to disrupt its manufacturing cycle. Sandvik Coromant soon went back to Halliburton with its proven CoroTap® 200 -SD solution, which was then integrated into the manufacturing process with dramatic results.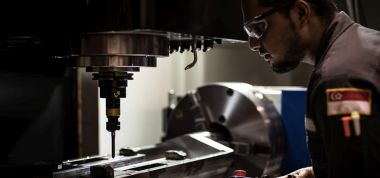 For Halliburton, Sandvik Coromant also recommended a CoroChuck® 970 holder to ensure excellent thread quality and reliability, alongside the CoroTap 200 -SD.
One of the biggest improvements was for the thread milling process of Halliburton's release housing components. Before the improvements, the process took 116 minutes to complete, but was slashed to just six minutes once the CoroTap 200 -SD was introduced.
Before Sandvik Coromant took up the challenge, the thread milling process for Halliburton's manifolds previously took 26 minutes per component. The cutting time was more than halved to 12 minutes as a result of the CoroTap 200 -SD, saving time and thousands of dollars for Halliburton.
Halliburton initially introduced the CoroTap 200 -SD solution to components which require a thread size of 3/8-16 UNC (Unified National Coarse) holes, then to thread size of ½-13 UNC holes. Because of the dramatic time reductions, it is now looking at other components on which it can use CoroTap 200 -SD.
"I was surprised and very excited by the time savings," says Singapore-based Foo Siong Fatt, senior technical professional at Halliburton. "Because our UK trials were not successful, we wanted lots and lots of testing, which Sandvik Coromant was happy to do off-site. Doing this type of testing in-house carries certain risks."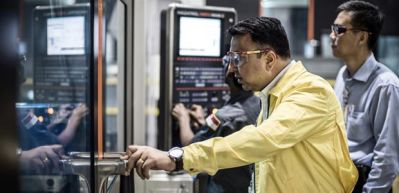 Sandvik Coromant has a Productivity Improvement Program (PIP) where technical specialists visit a customer and analyze its operations. The technical specialist can then suggest improvements to the production process, spotting bottlenecks and recommending changes.
While the results speak for themselves, Foo was also impressed with the implementation of the new tools. "We have worked with Sandvik Coromant for many, many years and so they were the first choice for us. But I was still surprised by how smooth the implementation was. Change is not always easy in manufacturing and gets a lot of resistance, but this was very spontaneous."
The whole process, from testing through to implementation, took about three months (February through April 2016), a time when oil prices hit record lows. This slump in prices sparked a slowdown in the energy industry, forcing companies to scrutinize their costs and processes. For Halliburton, the introduction of Sandvik Coromant's CoroTap 200 -SD came at just the right time.
Want more information? Click below.