World's First 12kw Fiber Laser Machine Cuts Thick Plates More Than 3x Faster Than 6kW
The next quantum leap in speed has arrived for laser cutting of thick plate, giving fabricators a way to fast-forward production time.
Whitney has announced the world's first 12kW fiber laser machine is now ready for order. Coming just three years after Whitney's 6kW fiber laser, the new 12kW technology cuts thick steel up to 3.7 the speed of 6kW.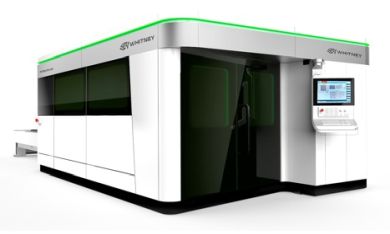 "12kW fiber is a game changer," said Dale Bartholomew, Sales Manager for Whitney Cutting Technologies. "For years, cutting thick plates with fiber was simply too slow and expensive. But the only alternative was a C02 laser, which came with all kinds of headaches."
"Now, you'll be able to cut 5/8" plates more than three times faster with 12kW than you could with 6kW. With fiber, you don't have to deal with realigning the beam path mirrors like you do with C02. And now that we've made nitrogen-assisted fiber cutting affordable, you can eliminate costly processes down the line to remove oxidation.
"Put that all together, and you're talking more than just an incremental improvement," Bartholomew asserted. "You've effectively removed cutting as the bottleneck in the production process. It will recalibrate expectations for the entire industry."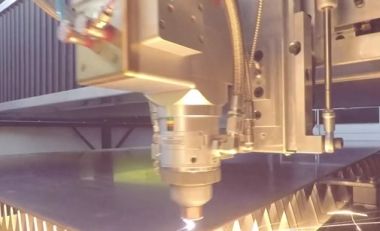 A host of technologies came together under the auspices of Whitney's Rockford, IL-based engineering team to make this speed breakthrough possible. One challenge was a cutting head that could manage the high temperatures generated by 12kW power. The team found a solution inspired by an industry-proven laser welding head. As with all fiber cutting heads, the beam is delivered directly to the head, making maintenance simple compared to C02 cutting heads that can overheat unless the beam path mirrors are tediously realigned between uses.
The team also advanced the state of the art in nitrogen usage. To make fiber cutting more economical, they developed a proprietary method that uses far less nitrogen than before. As a result, the new 12kW Fiber Laser can make a 100-inch cut in 3/8" steel for just 12 cents in power and gas costs -- slashing the cost from 6kW by more than 80 percent.
Maximum speed includes fast programming. That demands not just a powerful body, but a superior brain. "When cutting at this level, the control system has a lot to manage, so we built intelligence into the control itself," Bartholomew explained. "You can change from one material type or thickness to another, simply by changing the reference to our extensive Material Parameter Library of cutting conditions."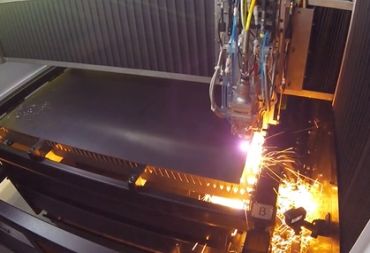 Giving the control a "mind of its own" means it can adjust on the fly without complex program code -- including automatic changing of power and focus. "Having a library of cutting conditions built into the control simplifies program code for lead-in steps, piercing steps, hole, or complex cornering geometries," Bartholomew said. "It also helps maintain consistency from programmer to programmer, as there are no separate parameter databases on different work stations. All these efficiencies add to functional speed."
Whitney has also adapted its unique Rapid-Pierce technology to its fiber laser cutting systems, which enables fast piercing that imparts little heat to the work piece. Bartholomew said, "We developed Rapid-Pierce a number of years ago, but it's still one of the keys to laser efficiency. It can save minutes per part, avoid the need for operators to hammer out small cutouts in thick steel, and allow immediate cutting after piercing without harming cut quality."
Want more information? Click below.