Unique Vise System Features Dovetailed Jaws That Can Be Changed in 10 Seconds
CARVESMART has replaced face mounted cap screwed jaws with a quick change vise jaw system.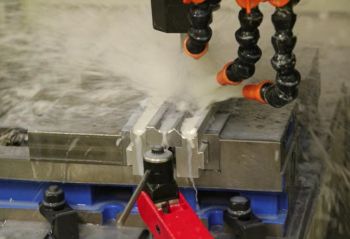 For new openings, CARVEsmart dovetail and clamp features are machined directly into the Orange IJS vise eliminating the need for master jaws. This saves 1.5" of opening. Conventional face mounted cap screwed jaws can also be used on the 6" IJS vise. The CARVEsmart system is also compatible with all existing vises in a production or tool room application
The 6" Orange IJS vise accepts all CARVEsmart dovetailed jaws. The fully machineable jaws result in a larger machineable workholding zone that permits holding larger parts deeper into the jaws of the vise for better performance.
The patented CARVEsmart system is designed for production and tool-room applications replacing the often cumbersome, conventional method of attaching vise jaws to a vise. Dovetailed jaw changes are fast and easy with the "from the top" clamping system.
The clamp assembly pulls dovetailed jaws tightly into two axes while a SMARTstop™ pin locates the jaw accurately in the third axis promising ±0.0003" relocation. The SMARTstop slot and pin is internal to the dovetail allowing vises to be mounted side-by-side.
Extruded, aluminum dovetailed jaw stock is available in five profiles in lengths up to 94". It can be cut to any length the user requires. Steel options are 60/62rc hardened tool steel, 48/50rc A2 machineable tool steel, and 1018 steel. Specialty jaws are also available.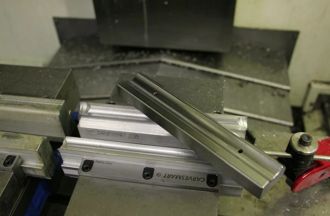 CARVEsmart™ will showcase the original quick-change vise jaw system, featuring dovetailed jaw technology, on the Orange Vise Integrated Jaw System (IJS) for machining centers at PRI16 being held at Indianapolis' Indiana Convention Center, Dec. 8-10.
"Attendees at PRI16 will be thrilled with the simplified jaw changes and versatility CARVEsmart and the Orange IJS vise system can offer," said Doug Fontaine, National Sales Manager for CARVEsmart. "Sharing our technologies gives users a pathway to integrate the highest quality, fastest vise jaw system saving precious time and having a positive impact on the bottom line."
Want more information? Click below.