Enhanced GibbsCAM 2016 Education Editions Include Free VoluMill High-Speed Toolpath Option
3D Systems has released enhanced GibbsCAM® 2016 Classroom and Student Editions, now with free access to GibbsCAM VoluMill™, the popular, high-speed machining (HSM) utility used in manufacturing.
GibbsCAM 2016 Education Editions include both VoluMill Wireframe and VoluMill Solids to ensure that students can gain exposure to the utility before entering industry. These new additions enable GibbsCAM 2016 Education Editions to more closely mirror industrial versions of GibbsCAM, which recently began including VoluMill Wireframe as a free option to new licensees. GibbsCAM 2016 Education Editions are now shipping to current educational users who have maintenance contracts.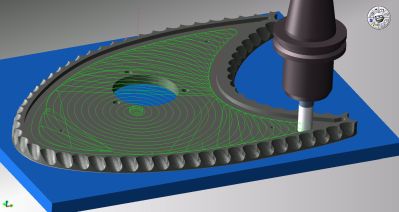 GibbsCAM Education Editions have the same shop-friendly interface as industrial versions, ensuring that graduating students can be prepared to immediately enter the production environment without having to learn a new or modified interface. The software is designed to be easy to teach, learn and use, making class time more productive for instructors and students alike.
GibbsCAM Classroom Edition can be licensed for stand-alone and network implementation, and is operationally and functionally identical to industrial versions of GibbsCAM. Students can complete any CNC programming tasks required in the industrial environment, including the generation of machine-ready programs through post-processing.
The Classroom Edition is complemented and augmented by the Student Edition, which enables the student to work off campus, and use the software's bidirectional communication for interaction with the Classroom Edition.
GibbsCAM VoluMill was developed specifically to achieve the highest material removal rates with maximum cutting-tool engagement, while extending tool life through smooth transitions and constant tool loading. Users have reported cycle time reductions as high as 70 percent and tool life extension of up to five times.
VoluMill Wireframe and VoluMill Solids are integrated within GibbsCAM's traditional, shop-friendly interface. VoluMill Wireframe is geared for GibbsCAM Production Milling, which provides wireframe geometric modeling and toolpath generation for 2-, 2.5-, and 3-axis machining, with 4th axis positioning. VoluMill Solids, an incremental enhancement to VoluMill Wireframe, integrates with the GibbsCAM Solids Option, allowing users to select solids, surfaces and facet bodies to quickly and easily generate HSM toolpaths for ultra-high performance material-removal efficiency.
3D Systems' GibbsCAM software provides full CNC programming, toolpath verification, machine simulation and post-processing for vertical and horizontal machining centers, turning centers, lathes, multi-task machines, and 5-axis rotary tables and indexers.
Want more information? Click below.