So What Does the Election Mean for Manufacturing?
AMT -- The Association for Manufacturing Technology, the Metals Service Center Institute, and the Reshoring Initiative each offer their perspective on last week's presidential election and what it may mean for the manufacturing industry.
The first perspective is offered by Amber Thomas, Vice President -- Marketing, Communications & Advocacy at AMT -- The Association For Manufacturing Technology, which owns IMTS.
After two long years, the 2016 Presidential election is history. Donald Trump will be inaugurated in January as the 45th President of the United States. Most predicted a strong victory for Hillary Clinton that could bring with it a change of power in Congress. The results were stunningly different.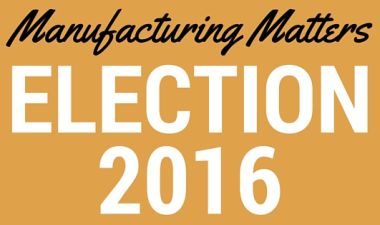 Republicans held their majority in the Senate at 51-48. Democrats picked up two seats, far less than the five they needed to gain control. That 51-vote majority, however, is not close to the 60 votes necessary to overcome a filibuster of legislation in the Senate. Cooperation and compromise between the parties is key to action on issues important to manufacturers.
Some progress was made last year, but that stopped abruptly once the primary season was underway. Bipartisanship resulted in reauthorization of the Ex-Im Bank; a long-term transportation bill; and passages of bonus depreciation, permanent Sec. 179 expensing, and a permanent R&D tax credit. There could be some action in the post-election lame duck session but only on must-pass funding bills. The opportunity to approve the Trans Pacific Partnership agreement has come and gone. Our elected leaders must move at a faster pace and that can't happen without both parties working together.
It is imperative that the Trump administration and 115th Congress make peace with the brutal election and get down to work immediately to address issues like repairing our crumbling infrastructure; addressing the skilled labor shortage and high unemployment; reforming our tax, regulatory, trade and immigration policies so that American companies and their workers benefit; and funding the technology research and programs that will boost innovation and drive U. S. competitiveness.
Manufacturers, you have a commanding voice to make positive change in Washington because of the impact you have on economic growth and national security. Join with your colleagues and urge your members of Congress to put an end to the stalemates and act on issues where meaningful compromise is within reach.
Engagement begins at the polls but doesn't end there regardless of the victors. Make a New Year's resolution now to send a congratulatory note when the new Congress convenes in January. You might also include a request to meet and suggest a visit your company. You can be a valuable resource and advisor on issues impacting your company and your industry if you are engaged in the process.
Differences can lead to great compromise, but only when the players come to the table with open ears, open mouths and open minds. We should expect at least that much from our elected leaders.
Metals Service Center Institute: Election Shows Restless Voters Want Swift, Decisive Action
This election cycle is clear evidence that voters want a new direction for the economy and the country, and are looking for lawmakers to finally take strong action on trade, tax reform and infrastructure, M. Robert Weidner, III, president and CEO of the Metals Service Center Institute (MSCI), said recently.

"Voters delivered a resounding message to Washington," said Weidner. "Americans now want President-elect Donald Trump and Congress to act decisively, with new and creative ideas that address the economic insecurity they feel. Lawmakers of all political stripes must resist the temptation to let the election's rancor and partisan rhetoric, or the unproductive and dispiriting focus on investigations, to carry over into the new year. It's time for presidential and congressional leadership. Good public policy now must take precedent over politics."
The industrial metals supply chain -- companies involved in the production, wholesaling, and primary processing of steel, aluminum, stainless, copper, and brass -- provides approximately 2.4 million jobs that pay about $55 billion in wages, generates approximately $170 billion in annual economic impact, and around $64 billion in tax revenues. To help its members continue to provide jobs with good wages and benefits, MSCI has outlined a robust, bipartisan policy agenda, which includes ensuring:
Future free trade agreements include efforts to address currency manipulation and unfair trade practices.
Tax reform addresses both corporate and small business tax rates.
A pro-growth/pro-manufacturing economic plan.
The transition to a new energy economy is focused on spurring private sector investment, not on writing regulations that impose huge costs on businesses and consumers.
Washington doesn't ignore the country's growing infrastructure investment needs, its need for revisions to the Affordable Care Act, and its need for immigration reform.
For more information on MSCI's policy agenda, visit MSCI's website.
Reshoring Initiative Recommends Trade Strategy for President-Elect Trump
The Reshoring Initiative recommends a robust national strategy to achieve President-elect Trump's goal of returning millions of U.S. manufacturing jobs.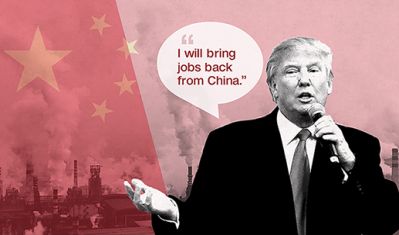 Candidate Trump focused on seemingly uncomplicated actions such as imposing 35 to 45 percent tariffs on Mexican and Chinese goods, renegotiating trade agreements such as NAFTA and cutting the corporate tax rate to 15 percent. President Trump will need to utilize a broader portfolio of actions, especially those that are proven and can be unilaterally implemented by the U.S. and passed by Congress.
Key topics that need to be discussed include:
How many jobs have we actually lost to trade vs. automation?
How many jobs have come back this decade?
How many jobs could be brought back if we make the U.S. more competitive?
What are the most effective economic changes to enable the jobs to come back?
How does bringing jobs back relate to the budget deficit, debt, income equality, the environment and defense preparedness?
Harry Moser, president of the Reshoring Initiative, said "The country has a unique opportunity to address a broad range of economic and social issues. Reshoring's success bringing back hundreds of thousands of jobs in the last six years despite the headwinds faced by U.S. manufacturing is proof that millions can and will be brought back when the headwinds are eliminated."
Want more information? Click below.