End Mill Stabilizer 2.0 Doubles Feedrates, Shortens Cycle Times
Niagara Cutter, a subsidiary of Seco Tools, LLC, recently launched its new Niagara Cutter Stabilizer 2.0 next-generation family of end mills.
The Stabilizer 2.0 cutters incorporate patented continuous variable asymmetrical geometries and provide incredibly smooth and chatter-free performance that allows feedrates to be doubled as compared with previous models. And because they handle twice the chip load capacity, the new versions substantially shorten part machining cycle times and further boost productivity.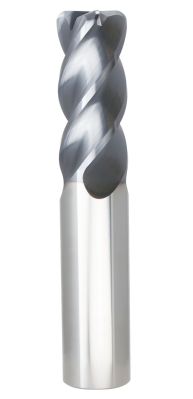 Stabilizer 2.0 includes the ST430.2 series designed for steels, alloy steels and cast iron as well as the ST440.2 HT series for ISO-M and ISO-S materials, including stainless steel, titanium and high-temp alloys. In addition to the performance boost provided by the new geometry, an advanced AlTiN coating offers resistance to heat and abrasion to optimize tool life.
The end mills come in diameters from 0.125" to 1.0" and 3 mm to 25 mm with square corner and corner radii -- based on series and diameter -- of 0.010", 0.020", 0.030", 0.060" and 0.120". Lengths are 1xD, 2xD and 3xD, and shanks are either cylindrical or -- if 0.375" or larger in diameter -- have Weldon flats.
As with all Niagara solid end mills, Seco offers its Modification Program with the Stabilizer 2.0 for quick turnarounds on modifications of the new tool. In just five business days, Seco will modify and coat the tool to the same specifications as new products. The program is well suited for lot sizes of 20 or less pieces and not designed to provide large volume specialty tools.
Want more information? Click below.
Copyright © 2018 by Nelson Publishing, Inc. All rights reserved. Reproduction Prohibited.
View our terms of use and
privacy policy
::m::